Communication and Diversity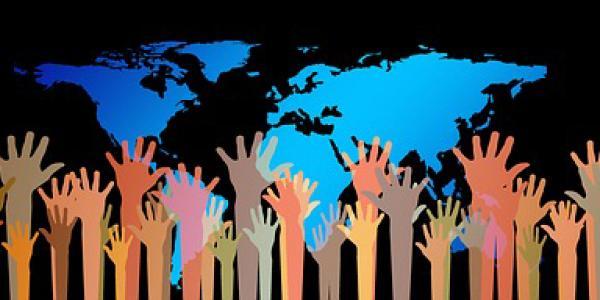 Student Debra Turner-Kelly was a student in
COMM 3271: Communication and Diversity
, when she wrote this reflection paper on sexuality, in which she shared her unique perspective as a (government defined) senior citizen – age 63, a woman, and Black. She lived through the edge of the Age of Aquarius as a child – the swinging Sixties – but was a young adult during the mid to late 70s – women's lib, Black power, gay liberation – the exploration of personal choice and the freedom to express it.
Read her enlightening and powerful essay here
. 
Latinx Communication Studies

Class members in COMM 4272: Latinx Communication Studies developed websites to study and highlight Latina/o/x communication in relationship to the theme of Construyendo Otros Mundos (Making Other Worlds). In these examples, undergraduate and graduate students examined the topics of anti-Blackness and Black joy, Chicano social movement legacies and mutual aid, food as communication and culture, and the importance of consensually amplifying the experiences of Latina/o/x student scholars in Denver's schools. A few class members in the course were K-12 teachers and were able to adapt this assignment to create a resource for their students and colleagues!
Voz Afro by Shannon Robinson
Brown Berets by David Olguin
El mundo de tamales by Miguel Ortega
SMART by Weber
Environmental Communication       
Class members in CO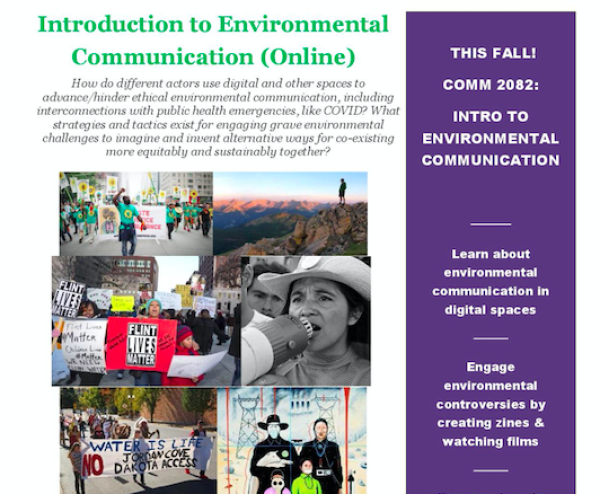 MM 2082: Introduction to Environmental Communication developed advocacy campaigns in the form of zines. These do-it-yourself mini magazines address a variety of environmental communication topics, including mountain trail care, fast fashion, single-use plastics in the restaurant industry, zero waste, sustainable practices at home, and animal rights advocacy. As you engage this sampling of creative work, don't miss the interactive sections, which are designed to help readers think about ways to actively contribute to creating more just, equitable, and sustainable communities.
Loving Nature to Death: Trail Care for a Better Outdoor Steward by Awbrey Moffett 
Fast Fashion: A Look into Consumer Textile Waste and its Alternatives by Kaysie Larson 
Refuse or Reuse: To-go Containers in the Restaurant Industry by Isabelle Castro 
Sustainability at Home by Kennedy Taylor  
Zero-waste on Campus by Zhifei Chen 
Love or Hurt: Let's Boycott the Owl Cafe by Zhang Rong  
Queer Media Studies
Throughout the Fall 2020 semester, students in COMM/WGST: 4660 Queer Media Studies have investigated the history of LGBTQ representations in a range of popular media, including news, film,  television, comics, video games, music, and the Internet. Students were not only introduced to major debates and theoretical frameworks surrounding queer media studies, but they paid particular attention to questions of intersectionality and how gender (identity), race, class, nationality and ability always already intersect with our understandings of sexuality. For their final video projects, students then worked in groups to analyze and critique an issue/debate in contemporary queer media culture. For example, Group 5 (Alec, Annabel, and Natalie) examined the Evolution of Pride Parades; Group 4 (Izzy and Evelin) explored the Lack of Transmasculine Representation in Media; and Group 1 (Christoph, Em, and Lydia) engaged in a queer reading of Cardi B and Megan Thee Stallion's WAP and Its Reclaiming of Femme Identities.  Check out these awesome clips! All videos are also available on the Queer Media Studies Tumblr page. 
#BlackLivesMatter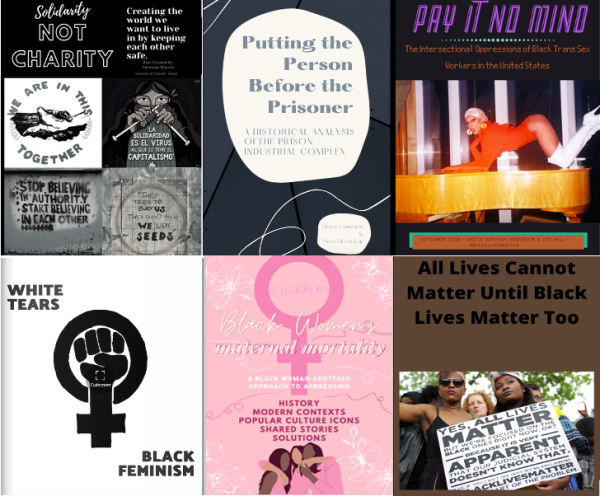 In Fall 2020, students in the special topics course COMM 4710/6710 #BlackLivesMatter: Media and Activism in the Struggle for Black Liberation explored the contemporary BLM movement within historic struggles for Black liberation and racial equity in the U.S. Together the class pursued questions such as: What does it mean to say Black Lives Matter? What does the rise of the prison-industrial-complex have to do with the devaluation of Black life? How are BLM activists using media and technology in their organizing? 
How do the Black feminist and LGBTQ underpinnings of #BLM inform the movement's ideas and vision for the future?
For their final projects, students specifically created zines (self-published, DIY magazines) focused on current racial justice issues in order to challenge dominant narratives of Blackness. For example, "White Tears | Black Feminism"  (TuongVi) tackles the racism inherent in white feminism; "Putting the Person Before the Prisoner" (Grayson & Nevin) analyzes the prison-industrial-complex; "Pay It No Mind" (Joe & Ardita) illustrates the intersecting oppressions Black trans sex workers are subject to; "Solidarity Not Charity"  (Sweeann) uses racial capitalism as a framework to explore COVID's devastating impact on communities of color and the need for mutual aid; and "A Guide to Black Women's Maternal Mortality" (Shannon) offers a Black-woman centered approach for addressing systemic racism in medical science. Are these topics piquing your interest? Check them out!
Business and Professional Speaking
In COMM 2050: Business and Professional Speaking, the Persuasive Presentation assignment asks students to demonstrate their ability to effectively persuade an audience to take action on behalf of a Colorado-based nonprofit organization. Students demonstrate awareness of effective persuasion techniques, organization, and delivery. Students also demonstrate ability to effectively use visual aids (e.g., slides, images, or short video clips) via Zoom's screen share technology.  Stephanie Maxwell, a student in CU Denver's Business School delivered a powerful persuasive speech on  "Literacy is not a Luxury."
Russian disinformation, veganism, and UN discourses drive student honors projects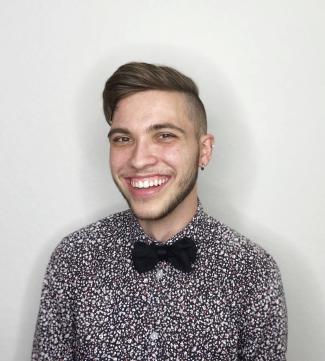 Graduating senior Derek D. Bowers pinpoints the 2016 election as an event that motivated his career path and senior thesis project. This election "was actually the first election I was ever able to vote in," he explains, and it "compelled me to seek a career in politics and social justice." 
This passion led Bowers to produce a thesis that explored "the Russian social media disinformation campaigns during the 2016 Presidential campaign through an analysis of disinformation targeted toward two audiences: African-American voters and right-leaning voters. Bowers tracked social media campaigns rife with divisive misinformation aimed toward influencing each group. 
Bowers says, "Writing this thesis has been one of the most daunting yet fun experiences of my life. I have learned an incredible amount and feel that I am well prepared for graduate and professional-level writing." 
He explains, "Communication touches every aspect of our daily lives. From the communication practices of the IRA to the way we interact with each other on social media, communication is helping to shape every interaction we have. It has far reaching impacts as well, from how we communicate to those closest to us to how we make a decision of who to vote for."
Bowers is heading off to Brussels in the fall to study Human Rights Law at the University of Kent International School of Business.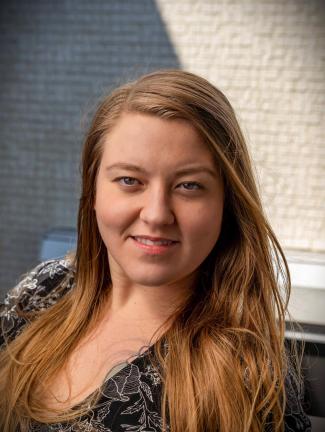 Meanwhile, across the Pacific Ocean, Taylor Hartley worked on her thesis an online student earning her BA from Tokyo. During her time in Japan, Taylor found it challenging to find vegan fare. 
Her quest for meatless Japanese cuisine and advocacy for vegan diets led her to use Adobe Spark to create a multimedia website featuring her original photography and writings that explore veganism and communication about veganism in the US compared to Japan.
Both the US and Japan "have very influential culinary scenes seen around the world and have the power to make a difference," she notes. "By choosing to create advocacy web pages instead of writing a paper, I felt more freedom and really let the creativity take me in my project." You can check out Taylor's project here. 
Hartley plans to pursue graduate study back in the United States in the fall, while she awaits the lifting of travel restrictions so she can fly home.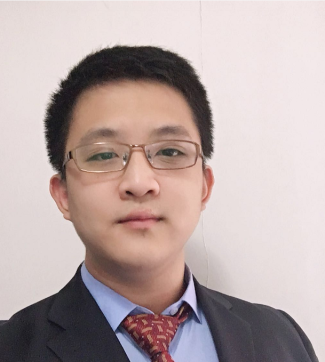 Qian (Tony) Hu focused his thesis on his longstanding interest in foreign aid. "Foreign aid is the main force to help people suffering from poverty, natural disasters, wars and diseases," he explains. 
"As the two largest economies on earth, and the two largest providers of foreign aid, how China and America handle their development projects in the future will determine the shape of societies in Africa, Latin America, and the Middle East," he said.
Hu found differences in how the US and China frame their foreign aid, with one focusing on infrastructure and one focusing on democracy promotion and human rights. This difference has implications for how each nation works on the global stage. "Foreign aid is both a significant form of assistance to recipient countries and beneficiaries and an important tool of political jockeying for donor countries seeking to expand their realms of influence," he notes.
Hu says he would "highly recommend" the COMM 4700 writing practicum course, and he advises future thesis writers to carefully plan the structure of their thesis before writing.
Hu has always planned to take a gap year in China before pursuing graduate study in the US. 
In addition to these three honors projects, we extend warm congratulations to the following graduating seniors who completed department honors remotely from Denver and Beijing project classes. We also thank Professors Stephen Hartnett and Patrick Dodge for overseeing our honors theses and projects and to all the faculty members who served on honors review committees from Denver and Beijing.
Xin (Bismark) Bi explored streaming markets across several Chinese cases studies.
Wenxin (Chloe) Chen wrote about Weibo interactions between the government and citizens during the Trade War.
Yingran (Iris) Guo examined gendered representations on video-based social media in China.
Sitong (Sherry) Guo looked at the construction of an illusory opponent in media representations of the Hong Kong protests.
Tiansheng (Jerry) Han performed an experimental study of the relationship between consumer engagement and marketing effectiveness in short form video platforms.
Nuo (Nora) Li analyzed the representation of Covid-19 in Chinese social media.
Abigail Meyer explored the ways organizations practice inclusion and diversity around "dis"/ability issues.
Xiaoyan Shen situated the explosion of COVID-related anti-Chinese racism within deeper historical patterns of anti-immigrant rhetoric.
Allysia Kramer-Steward analyzed how beauty has become a commodity rife with racial and gender implications.
Deyan (Dane) Wang tracked social media key opinion leaders' impact on Chinese box office films.
Haoteng Yao wrote about the rise of cyber civic engagement in China.
Yuwei (Vivian) Zheng explored Chinese documentaries about women using a feminist lens.
Join us in extending a hearty congratulations to our graduating departmental honors recipients!