Lambda Pi Eta (LPH) is the official communication studies honorary of the National Communication Association. As an accredited member of the Association of College Honor Societies, Lambda Pi Eta has over 180 active chapters at colleges and universities across the United States. The goals of Lambda Pi Eta are to: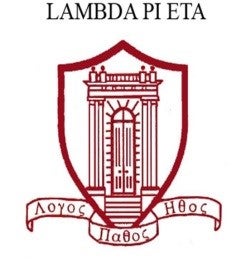 recognize, foster and reward outstanding scholastic achievement
stimulate interest in the field of communication
promote and encourage professional development among communication majors
provide an opportunity to discuss and exchange ideas about the field
establish and maintain close relationships and understanding between faculty and students
explore options for further graduate studies
Requirements for Membership
To become a member of a Lambda Pi Eta chapter, students must meet the following qualifications:
Completion of at least 60 semester hours in college
Completion of at least 12 semester hours of study in the discipline of communication
A cumulative GPA of at least 3.0
A GPA in Communication courses of at least 3.25
Currently enrolled as a student in good standing
Display of commitment to the field of communication
Students are invited to submit applications for Lambda Pi Eta in the spring and fall semesters. 
The application fee is $40, of which the department pays half. Students pay $20 to receive a certificate, red and white honor cords, and LPH pin. 
The spring 2023 deadline to apply was Friday, March 17th. No applications are being accepted at this time. Please contact Michelle Médal at michelle.medal@ucdenver.edu if you have any questions.