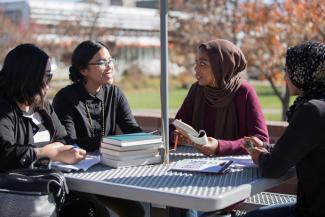 CLAS makes it a priority to enhance diversity across the college and foster a culture of inclusion. Our strategic plan details a variety of goals related to this priority:
We seek to recruit, train, and retain faculty, staff, and students who contribute to a college that welcomes and includes differences.
We strive to sustain an educational setting and workplace where all persons feel valued and respected.
We aim to provide a rich tapestry of formal and informal teaching and learning opportunities to understand and educate about differences.
The CU Denver College of Liberal Arts and Sciences attracts students who value critical thinking and demand practical outcomes. Our dedication to delivering both is creating a new paradigm for liberal arts education. We challenge students by providing an urban-inspired, diverse education that prepares them to thrive in a rapidly-changing, global environment.