Events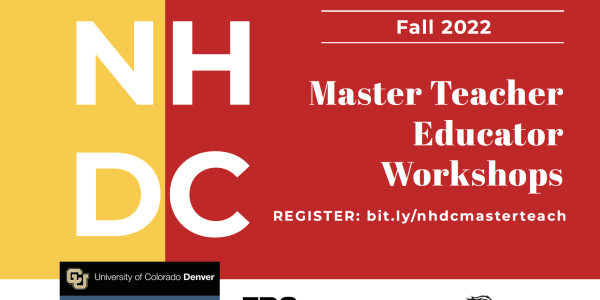 National History Day in Colorado is proud to have received a grant from Teaching with Primary Sources at Metropolitab State University of Denver to enhance and improve our educator workshops and to train masterteachers who can mentor new and junior NHDC teachers, and who will, as part of this grant, become TPSTeachers' Network members.
This year's teacher workshop cycle will consist of your choice of two hybrid workshops, with one in-person dayand four evenings of virtual instruction to follow. These will culminate in a Master Teacher Showcase for all participants in early November where participants will present their deliverable to the cohort and receive aMaster Teacher designation.
Application for one of the teacher workshops comes with the expectation that educators attend the entirety of their selected workshop and attend the Showcase and present a primary resource set along with lesson plans and learning activities. Grants and stipends for travel and accommodation will be available. Professional development hours will be awarded.
Session 1:
In-Person: September 30 from 9:00 am to 4:00 pm in Denver
Virtual: October 3-6 from 6:30-7:30 pm nightly
Session 2:
In-Person: October 21 from 9:00 am to 4:00 pm in Denver
Virtual: October 24-27 from 6:30-7:30 pm nightly
Showcase Reception:
November 4
Featuring: 
Rachel Lewis
The Village High School
Senior Individual Performance
"Women's Right to Vote Came Down to a Note"
State Contest, 3rd Place
Emma Taylor & Keira Krishnaiah
Summit Charter Middle School
Junior Group Documentary
"A Diplomat for a New Generation: Madeleine Albright"
National Champions
2023 Journal Authors
Nataly Uzdensky
"Lyudmila Pavlichenko and Eleanor Roosevelt: The Unexpected Friendship that Inspired Diplomacy During the Second Front Debate"
Summit Charter
Ian Li
"The Treaty of Versailles: How a Diplomatic Failure Helped to Hasten the Outbreak of World War II"
Chinook Trails Middle School
Gwyn Kaupman
"Failing to Free Tibet: A Diplomatic Refusal of the Hammer & Sickle"
Bear Creek High School
Ellie Parsons
"Brutal Beginnings: Theodore Roosevelt's Diplomatic Influence on Debate over Early American Football"
Denver School of the Arts
Mikel Kratzer
"A Monkey on Tennessee's Back: Debating Darwinian Evolution and Fundamentalism"
Caprock Academy
Amelia Mouret
"The Forever War: The Debate and diplomacy Over America's Role in Afghanistan" 
Escalante Middle School
Lyia Mei
"Diplomacy as a Dinner Party: Culinary Diplomacy in US-China Relations"
Fairview High School