Overview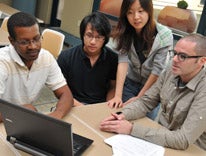 The MA program in economics is designed to train students in the quantitative and applied economic skills that will best enhance their future employment opportunities in the private and public sectors, or their pursuit of PhD studies in economics or related fields.
All our econ programs are classified as STEM fields.
The Emphasis of the Program
Our MA program emphasizes extensive training in mathematical and quantitative analysis, including the provision of substantial exposure to econometrics and forecasting, working with large and diverse data sets, and a wide range of statistical software. This gives students the applied skills that employers demand, provides those pursuing advanced degrees an edge in gaining admission to top-flight PhD programs—and enhances the likelihood of the student's ultimate success.
Evidence of our success in this area can be seen in part through the placements of our students. In recent years, a number of our graduates have gone on to top-ranked PhD programs including Harvard, Stanford, UC-San Diego, Illinois, Michigan State and University of North Carolina. Others have gone to work as economists in various federal, state and local government offices. Most of our graduates move into the private sector, working as economists or quantitative analysts for local, national and multinational corporations.
Learning Outcomes
Upon completing the MA degree in economics, students will be able to:
Use and develop theoretical economic models to analyze various economic issues, to communicate results, and to make policy recommendations.
Understand the challenges in identifying causal relationships using data analysis.
Use and develop statistical and econometric models, based on economic theory, to analyze various economic issues and make policy recommendations.
Communicate, in written form and verbally, theoretical and econometric findings to an audience of economics professionals and to a general audience. 
Note: The University of Colorado Denver is a member of Western Regional Graduate Program. Qualified students admitted to this program who are residents of one of the 15 WICHE states may be eligible for in-state tuition.