Admissions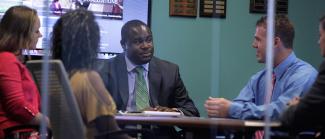 The graduate admissions process is selective and personal. You apply online through the graduate school using the approriate application portal. The graduate school will guide and assist you with understanding and completing the application requiremetns, and also notify you of your admission status. We know the admissions process can sometimes seem complicated, so if you have questions about the admissions process that are difficult to answer, we encourage you to contact the graduate school anytime at graduateadmissions@ucdenver.edu or 303-315-0049.
Official Application Deadlines
The application deadline for fall admission is June 1.
The application deadline for spring admission is November 1.
To qualify for regular admission a student must:
Meet all general requirements of the Graduate School (including a 2.50 undergraduate grade-point average).
Submit three letters of recommendation.
Submit official transcripts from all colleges attended.
Have completed 15 credit hours of undergraduate economics including intermediate microeconomic theory and intermediate macroeconomic theory.
Have completed courses in calculus and statistics.
Submit GRE scores.
International students must submit TOEFL scores.
Applicants without an undergraduate degree in economics can be admitted provided they meet the prerequisite requirements. More information about the recommended prerequisite courses for non-econ majors can be found here. 
At least two of your letters of recommendation should come from individuals who are familiar with your scholarly record. The third can be an additional academic reference or professional reference from someone who knows you well and can comment on your potential as a graduate student. Use this recommendation form. If you entered the e-mail addresses of your letter writers in the online application, they will be automatically e-mailed a link to submit the letters electronically. This form is only necessary if they did not receive the e-mail. Fill out the top half of the form and give it to your letter writer with the instruction to send it along with the recommendation letter to:
CU Denver Graduate School Admissions
Campus Box 163
P.O. Box 173364
Denver, CO 80217-3364 
All applicants, international and domestic, must submit GRE scores regardless of prior degrees, coursework, or work experience. The institution code for CU Denver is 4875. Most students admitted to the MA program score 154 or above (690 or above using the prior test scores) on the quantitative section of the GRE. However, this is not a minimum GRE cutoff score, nor is it a score above which admission is guaranteed. GRE scores are used in conjunction with other indicators of academic success at the masters level. Applicants must show strong evidence of quantitative ability either through high grades in math and statistics courses, a high quant score on the GRE, or preferably both.
The minimum requirement for international students is a score of 75 (IBT based TOEFL), 537 (paper based TOEFL), or 6.5 (IELTS). The institution code for CU Denver is 4875. The minimum TOEFL scores are a requirement of the College of Liberal Arts and Sciences and cannot be waived by the department of economics. The University may waive this requirement for applicants who have attended a college or university in the United States as a full-time student and have completed two semesters of academic work with a "B" average (3.0 GPA or higher). Please visit the International Admissions office website here if you have questions about this requirement.​
You are not required to submit all of your application material at once. Your application will be held at the Office of Admission until it is complete. Questions about completing your application, paying the application fee, submitting GRE scores, transcripts, and letters of recommendation should be directed to the Graduate School. Once your application is complete, the Graduate School will forward it to the Department of Economics for an admissions decision. 
International students who apply after the June 1 or November 1 deadline may not have time to obtain a student visa. Being admitted the MA program in economics does not guarantee that a student will receive a student visa in time for the start of the semester. International students who are admitted the MA program, but fail to obtain a visa in time, may defer admission for up to one year. All questions about student visa should be directed to the international admissions office.
For general admissions questions contact the Graduate School at graduate admissions@ucdenver.edu or 303-315-0049.
For program specific questions contact Econ_application@ucdenver.edu or 303-315-2030.
Domestic students should complete the on-line application here.
All supporting documents for domestic applications should be sent to the Office of Admissions:
Graduate School
University of Colorado Denver 
Campus Box 163​
P.O. Box 173364 
Denver, CO 80217-3364
International students should follow the instructions on the International Admissions website here.
Apply Now - International Students
All supporting documents for international applications should be sent to International Admissions:
University of Colorado Denver
International Admissions
Campus Box A005/141​
P.O. Box 173364
Denver, CO 80217-3364
USA