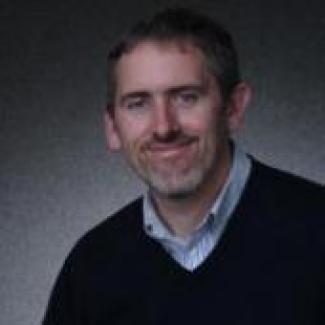 Associate Professor
Department of Chemistry
Mailing Address:
Department of Chemistry
Campus Box 194, P.O. Box 173364
Denver, CO 80217-3364

Office Location:
Science Building
Room 4131
Office Hours:
T: 12:00-01:00 PM
R: 12:00-01:00 PM
Education & Degrees
Ph.D., University of Oregon, 2001
M.S., University of Oregon, 1996
B.A., Bard College, NY., 1994
Bio
Professor Reed's research program falls at the interface between nanoscience and medicine. The first focus of his research is on nanoparticle-lipid conjugates as membrane mimics and the second is on nanomaterials for phototherapeutic applications.
Selected Publications
Desmond Hamilton, Yuheng Cai, Rupinder Kaur, Grant W. Marquart, Rupinder Kaur, Marilyn R. Mackiewicz, Scott M. Reed "Lipid-Coated Gold Nanoparticles as Probes for Membrane Binding." 2016, Springer Protocols, Under Review.
Stephen M. Budy, Desmond Hamilton, Yuheng Cai, Michelle K. Knowles, and Scott M. Reed, "Polymer Mediated Layer-by-layer Assembly of Different Shaped Gold Nanoparticles." 2016, Under Review.
Bradley Reid, Scott M. Reed "Improved Methods for Evaluating the Environmental Impact of Nanoparticle Synthesis." 2016, DOI: 10.1039/c6gc00383d. Green Chemistry.
Christopher M. Yakacki, Mohand Saed, Devatha Nair, Tao Gong, Scott M. Reed, Christopher N Bowman "Tailorable and programmable LCEs using a two-stage thiol-acrylate reaction" RSC Advances, 2015, 5, 18997-19001.
Benjamin R. Ayres and Scott M. Reed "A minor lipid component of soy lecithin causes growth of triangular prismatic gold nanoparticles." Environmental Science: Nano, 2014, DOI: 10.1039/C3EN00015J
Reid E. Messersmith, Greg J. Nusz, and Scott M. Reed "Using the Localized Surface Plasmon Resonance of Gold Nanoparticles to Monitor Lipid Membrane Assembly and Protein Binding." Journal of Physical Chemistry C, 2013, DOI: 10.1021/jp406013q.
Min S. Wang ,  Reid E. Messersmith and Scott M. Reed "Membrane curvature recognition by C-reactive protein using lipoprotein mimics." Soft Matter, 2012, 8, 7909-7918. DOI: 10.1039/C2SM25779C, PMCID: PMC3767169.
Scott M. Reed "Mixtures of Supported and Hybrid Lipid Bilayers on Heterogeneously Modified Silica Nanoparticles." Journal of Physical Chemistry B 2013, 117, 2113-2122. 
dx.doi.org/10.1021/jp308305y, PMID: 23387352.