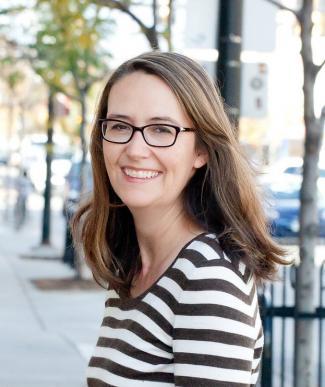 Senior Instructor
English
Mailing Address:
Department of English
Campus Box 175 
P.O. Box 173364
Denver, CO 80217-3364
Physical Location:
1059 Ninth Street Park, Office 205
Denver, CO 80204
By Appointment
---
About Julie Vick:
Julie Vick has been an Instructor with the department since 2007. She frequently teaches business writing and special topics courses and is a faculty advisor for English. 
---
Area of Expertise: Professional writing, rhetoric and composition, freelance writing, and humor writing.
---
Courses Taught: Business Writing, Special Topics in Writing: Humor, Core Composition I and 2, Argumentation and Logic, and Technical Writing.
---
Publications
Book:
Babies Don't Make Small Talk (So Why Should I?), Countryman Press 2021
Satire and Short Article Publications:
"The Best Animals to Watch Your Baby, According to Hemingway" New Yorker Digital. July 2022
"How to Pick Out a Good Melon." New Yorker Digital. July 2021
"Caitlin Kunkel Wants to Turn You On—Equitably" The Millions. March 2019  
"Thank You for Calling the Writer Envy Helpline" Electric Literature. July 2019
"Indigenous Writers Deserve More Credit for Being Hilarious: An Interview with Tiffany Midge." Electric Literature. December 2019 
"William Carlos Williams Poems for Introverts" McSweeney's Internet Tendency. September 2018 
"The Life-Changing Magic of Organizing Your Organizational Supplies" Real Simple. July 2018 issue.  
"Before Bingeing Hallmark Holiday Movies, Please Agree to These Terms" McSweeney's Internet Tendency. December 2018
"Rumpus Funny Women #157: Habits of Less Successful Writers." The Rumpus. November 2017. 
"Math Word Problems for Today's Parents" Parents magazine. May 2017.
"With a flexible work schedule, working out how much child care coverage to get." The Washington Post "On Parenting" Blog. October 2017  
"How to See Colorado Through an Author's eyes." AFAR digital. July 2016 
"The Writer's Index" Brevity magazine's blog. June 2016. 
"Postcard from the Suburbs." 5280: The Denver Magazine. December 2015 issue. 
"This Christmas Letter Gets Rave Reviews." The Christian Science Monitor. 2005. 
Various articles for the entertainment section. The Boulder Daily Camera. 1998