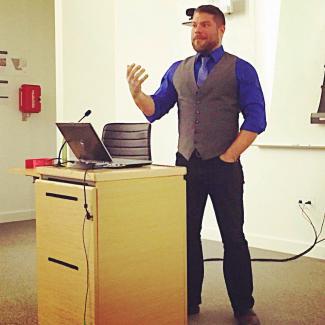 Assistant Professor
English
Mailing Address:
Department of English
Campus Box 175 
P.O. Box 173364
Denver, CO 80217-3364
Physical Location:
1061 Ninth Street Park, Office 203
Denver, CO 80217
OFFICE HOURS:
Fall 2019
TUESDAY AND THURSDSAY
8:00-9:00
---
About Dr. Andrew Scahill:
Andrew Scahill is an Assistant Professor specializing in film studies. His work tends to focus on genre and reception (audiences), with a particular interest in representations of youth rebellion. He has served as Coordinating Editor for Velvet Light Trap and Assistant Editor for Literature/Film Quarterly. He has been published in multiple journals such as Cinema Journal, In Media Res, FLOW, Jump Cut, and Postscript. He is the author of The Revolting Child in Horror Cinema: Youth Rebellion and Queer Spectatorship (Palgrave Macmillan, 2015) and is currently at work on a monograph concerning the representation of queer youth in Peter Jackson's Heavenly Creatures (1994).
---
Areas of Expertise:
Horror, Genre, Audiences and Reception, Censorship, Gender Studies, Queer Theory
---
Courses Taught:
Literature and Film, Film History, Intro to Film, Hitchcock, 1950s Cinema, Genre, Horror Film, Frankenstein Mythos on Film, Studies in Censorship, Deconstructing Breaking Bad