Richard Allen, Ph.D.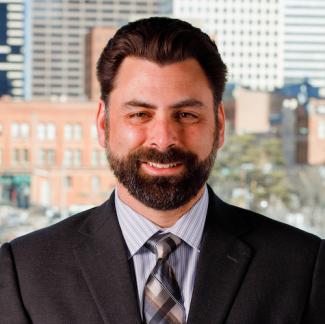 Dr. Allen's contributions to the MARC U*STAR program draw on his experiences as a researcher, teacher, and mentor, and on the administrative service  work he has performed for the Department of Psychology at UCD over the past 12 years. His research program focuses on animal models of addiction. He has active, grant-funded research collaborations with faculty members in the UCD Anschutz Medical Campus (AMC) Department of Pharmacology, focusing on drug addiction from the level of genes and proteins through behavior. Since 2001, he has served as the faculty mentor for more than 25 undergraduate students who have completed independent study projects or other research experiences in his laboratory.
Of the 10 students who completed honors theses under Dr. Allen's direction, nearly all have attended graduate school toward careers in biomedical and behavioral sciences (including many working toward or having completed PhDs in psychology, pharmacology and the neurosciences). Their work with Dr. Allen has yielded authorship on published journal articles, presentations at national conferences, and mentored grant awards. Dr. Allen has served also as the primary advisor for students enrolled in the BS Psychology degree program and as the faculty sponsor for students who pursue internships through the University's experiential education program, Denver CLAS. In 2007, Dr. Allen received both the UC Denver Outstanding Teaching Award in the College of Liberal Arts and Sciences (CLAS) and the UC Denver Faculty Award for Outstanding Student Mentoring. In 2011, Dr. Allen completed the UC Denver Excellence in Leadership Program. Furthermore, he recently received the 2011 Excellence in Service Award from the University of Colorado.
Jeremiah Ramos, M.S
Jeremiah Ramos serves as the Training Coordinator for the MARC U-STAR program. Jeremiah is the primary instructor for MARC 4680 – Behavioral Science Research Seminar, PSYC 2390 – Statics and Research Methods, and on occasion PSYC 7710 – Multivariate Statistics. Jeremiah earned his B.S. in Chemistry and Psychology from The University of Texas at El Paso followed by a M.S in Neuroscience from The University of Texas at Dallas studying the role of glutamatergic and GABAergic signaling models of schizophrenia.
After earning his master's degree, Jeremiah worked professionally in a research lab studying high fat diet-induced changes in sensitivity of the brain reward pathway, the same pathway targeted by drugs of abuse. Jeremiah is currently a Program Manager in the CU Denver College of Liberal Arts and Sciences Dean's Office where he works to identify barriers in student success in STEM courses. Jeremiah is also an Instructor in CU Denver Department of Psychology. Jeremiah is committed to the training and mentoring of students from all backgrounds and has a track record of working with students to acquire the tools they need to advance their education. Jeremiah's students have achieved admission to graduate programs such as The University of Michigan, The University of Indiana, Texas A&M University, and The University of Texas. Jeremiah is eager to share his experiences in navigating the progression from undergraduate student to biomedical and behavioral sciences graduate student.