A Unique Professional Development Opportunity for Teachers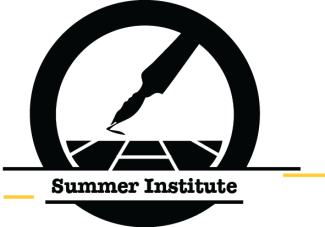 Application Process Now Open!
CLICK HERE FOR APPLICATION INSTRUCTIONS
Institute Dates: June ​8 - June 26, 2020
Times: Monday through Friday from 9am-4:30pm
Where: Auraria Campus, Denver, Colorado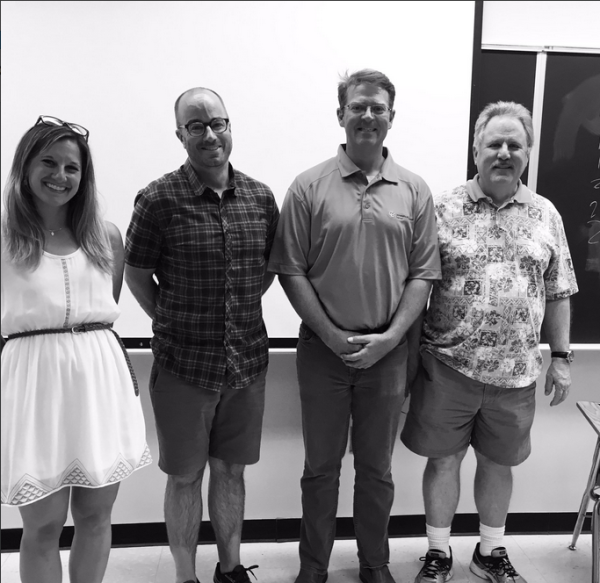 Invitational Summer Institute Directors Abbi Heller and Keith Garvert, DWP Site Director Kyle Crawford, and DWP Co-Site Director Rich Argys
Imagine spending three weeks completely immersed in new ideas for teaching writing and focusing your attention on your own development as a creative writer. 
Put yourself into an institute classroom one sunny morning, where yo​u find your teacher is one of the metro area's best writing teachers demonstrating her most successful approach to teaching slam poetry to underserved youth. Then, over lunch, you talk with a fellow teacher and an institute consultant about the challenges of integrating Common Core State Standards into your literacy pedagogy.
Or put yourself into this scene: as you sit at a picnic table on historic Ninth Street, shaded by a giant elm, munching popcorn, you read a draft of a story you're working on to three of your institute fellows; they talk with you about their experience of your narrative to help you see your work objectively.
Then they read their work in progress. Finally, see yourself at the Friday afternoon pot lucks, where you and your new professional colleagues break bread and build friendships further. These scenarios take place every week during the Denver Writing Project Summer Institute. 
For three weeks in June, you and roughly 15 other institute teachers gather on the Auraria Campus to learn proven methods for teaching writing; study research, theory, and pedagogy for teaching writing; and work on your own self-designed writing projects. When you complete the three-week session, you may be selected to become part of the DWP outreach teacher corps who conduct teaching-of-writing workshops, based on their institute experience, in Front Range schools and colleges.
Regular activities include interaction with guest writers who are published authors, demonstrations of teaching best practices (by teacher participants), discussion of common texts, and time to focus on your own writing andwork with a writing group.Institute fellows will complete two or three pieces of self-sponsored writing (memoir, poetry, teaching statement, short story, digital story, This I Believe, etc.). One of the pieces should relate to the teaching profession.​​
As a member of this exciting and imaginative program, you can earn up to six University of Colorado graduate credits that can be applied toward a master's degree in English or Education with an advisor's approval. (The cost of credit is based on the CU Denver Graduate Tuition Schedule for the College​ of Liberal Arts and Sciences.) 
We pay participants a small stipend to offset parking costs, travel fees, and institute materials that you purchase. The stipend may fluc​tuate from year to year, depending on our program's funding. 
We hope to receive applications from teachers who specialize in varying content areas, who teach a variety of grade levels (K through college), and who define themselves as life-long learners. We are also eager to receive applications from people of color who meet the criteria above.​
Please contact kyle.crawford@ucdenver.edu or cathy.casper@ucdenver.edu with questions or call the DWP office at 303-315-7846. ​