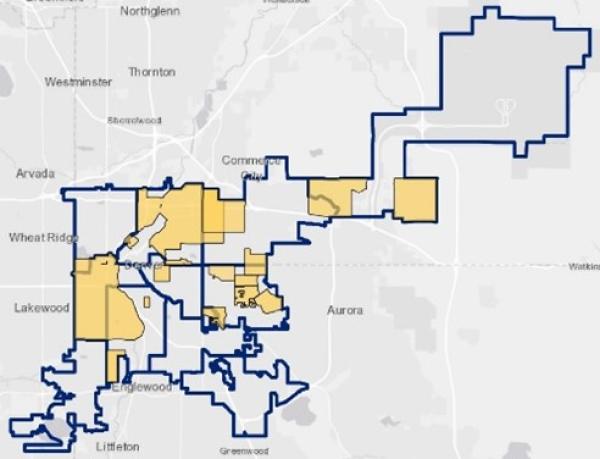 Every 10 years, with the release of the US Census data, the Denver City Council redraws its city council boundaries to ensure that every person has a voice in electing their local representative. For the 2022 redistricting initiative the City Council wants to incorporate as much community input as possible, and that's where two Geography and Environmental Department-trained GIS experts are stepping in.
As interns this semester and continuing into March 2022, Steven Geisbert and Clay Adams-Berger (MS/2020) have been given the primary task of processing, analyzing, and reporting on Communities of Interest (COIs). The Colorado Constitution defines a COI as "any group" that "shares one or more substantial interests that may be the subject of federal legislative action."  Redrawing council district boundaries must adhere to rules from the US and Colorado Constitutions, as well as the Denver Charter; one of those rules is to endeavor to preserve COIs and prevent them from being split. 
Community of Interest relevance is growing exponentially from election cycle-to-cycle as a tool to preserve communities. New to this cycle is public-facing, user-friendly web-portals that allow all residents to submit their own COIs. These sites gather data — including maps that citizen's draw themselves and qualitative information about what's vital to their community.  In order to make the 2022 redistricting process inclusive and accessible to all residents, Denver City Council is encouraging residents to participate through the site Define Your Denver.
Geisbert uses a variety of skills he learned in his graduate GIS program while processing the raw, citizen-submitted data into something clear and concise for the City Council to employ. He says he jumped on the internship opportunity when GES Chair, Peter Anthamatten, told him about it because, "Combining politics with geospatial data isn't a common thing to see… and as politics is an interest of mine, I thought, 'Oh wow what a cool opportunity to put these together.'"
"Data scientists and governments are still figuring out how projects like this will contribute to democracy in the future, it's all pretty new," says Geisbert. "After people see what efforts around COI do this cycle, I think many cities, states, and counties will see how powerful this is."
Becoming experts on Denver's COIs has been an exciting and valuable experience, says Geisbert. "Programs like these are being used to combat gerrymandering, that's how it's being used practically, and that's how it becomes critical." The tools Geisbert is using were built as part of Princeton's Anti-Gerrymandering Project, and he is excited about how their application could become a career-path for civic minded data scientists like him in the future.
Geisbert and Adams-Berger have been working closely with Rebecca Theobald at the University of Colorado Colorado Springs, who is also involved with and informed on the redistricting process at the state and congressional level. The three will do a co-presentation open to everyone in the CU Denver community at the Geography and Environmental Sciences Monthly Research Colloquium, on December 3, 2021 from 3:30 PM to 4:30 PM in North Classroom 3015.
The Denver redistricting effort will continue into 2022 and all Denver residents are encouraged to find out more about how they can get involved.