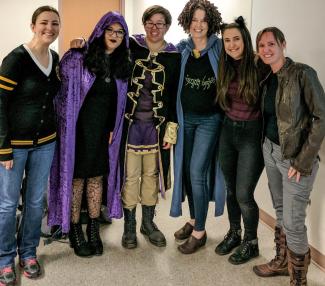 Undergraduate and graduate students of Anthropology at UC Denver are welcome in the Anthropology Club, which sponsors a number of activities, get-togethers and faculty lectures.
The Anthropology Club meets bi-weekly. Our activities include Happy Hour and Hangouts at local bars/restaurants, experimental archaeology (ochre painting, atlatl throwing, and butchery with stone tools), game nights, special lectures, end of the semester potlucks, and more! Undergrad and grad students who are interested in meeting anthropology students and forming a community, public outreach, or learning more about the diverse subfields of anthropology are invited!
All events are posted to our facebook page.
Faculty Sponsors:  Drs. Jamie Hodgkins and Tiffany Terneny