So, you've made a synchronous-online appointment. Now what?
First: You should know that these sessions are a lot like our in-person sessions. They involve collaborative discussion and can focus on any aspect of your writing process, including brainstorming, outlining, drafting, revising, and polishing.
Next: You can attach a document to your appointment (scroll to the bottom of your appointment), upload a file within the session, or just copy/paste text in the session whiteboard for your consultant to see.
Finally: If you experience technological problems, find the consultant's email address near the top of your appointment box and send them an email to let them know.
Okay, now some steps:
 Step 1
At least 5 minutes before your appointment start time, login to WCOnline, select the schedule where you made the appointment, and open your actual appointment. You can find your appointments either in the Today's Appointments list (in Standard Display) or the My Appointments menu near the top of the page (in Calendar Display).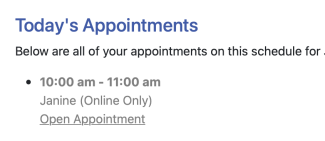 Step 2
Click the red Start or Join Online Consultation link.

 Step 3
If it's your first time, WCOnline may ask you to install an applet. This is totally safe – say yes. Consultants will not use video, but if you want to use audio, you'll need to say yes to both video/audio and then either disable the video or cover your camera.
 Step 4
Read the welcome text in the whiteboard to get acquainted with the interactive "room." We've pasted this text below if you want to read it now.
 Step 5
Have a look at this annotated image of the interactive "room" to get acquainted with some of the features.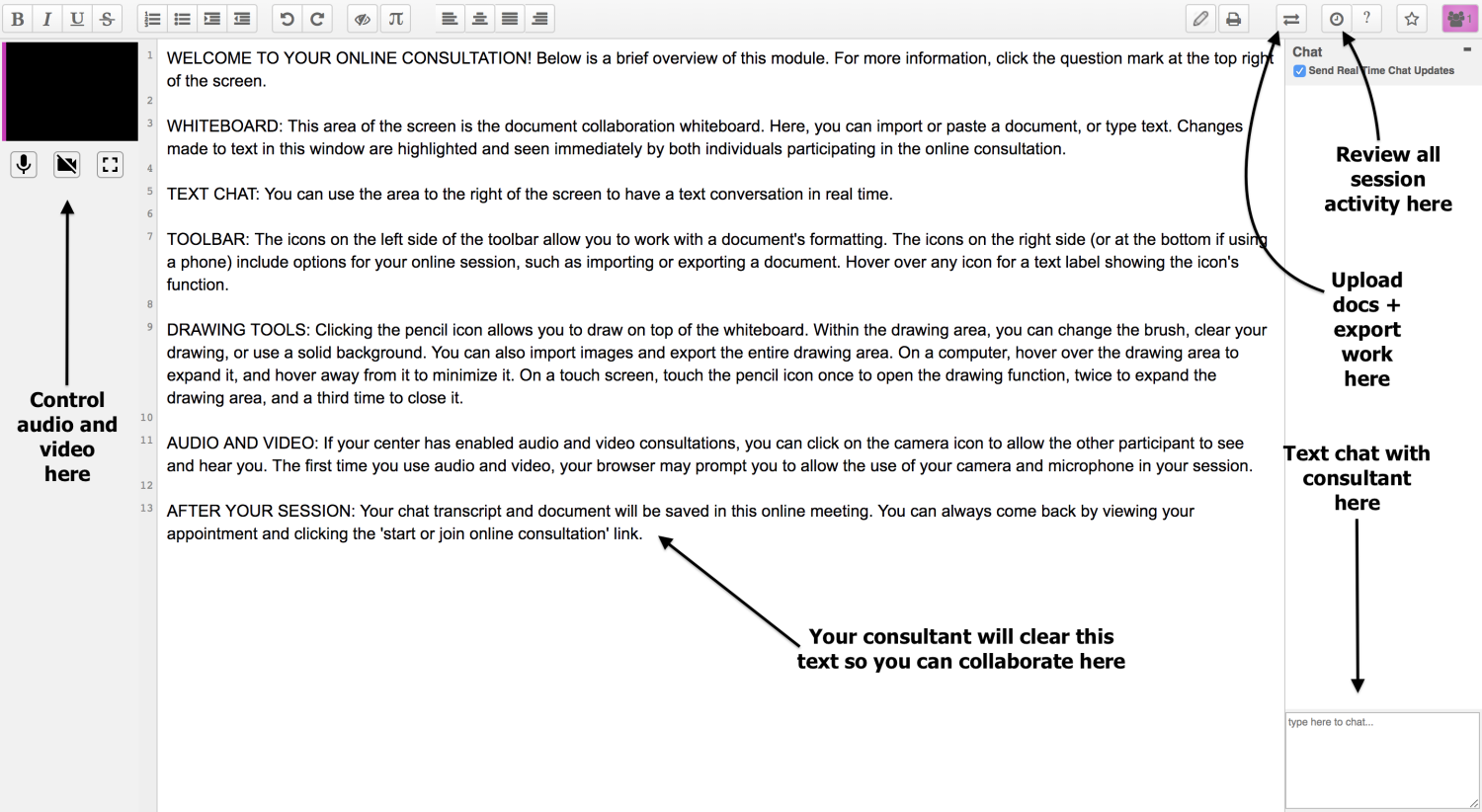 Step 6
Have a great session!
---
WELCOME TO YOUR ONLINE CONSULTATION! Below is a brief overview of this module. For more information, click the question mark at the top right of the screen.
WHITEBOARD: This area of the screen is the document collaboration whiteboard. Here, you can import or paste a document, or type text. Changes made to text in this window are highlighted and seen immediately by both individuals participating in the online consultation.
TEXT CHAT: You can use the area to the right of the screen to have a text conversation in real time. 
TOOLBAR: The icons on the left side of the toolbar allow you to work with a document's formatting. The icons on the right side (or at the bottom if using a phone) include options for your online session, such as importing or exporting a document. Hover over any icon for a text label showing the icon's function.
AUDIO AND VIDEO: If your center has enabled audio and video consultations, you can click on the camera icon to allow the other participant to see and hear you. The first time you use audio and video, your browser may prompt you to allow the use of your camera and microphone in your session.
AFTER YOUR SESSION: Your chat transcript and document will be saved in this online meeting. You can always come back by viewing your appointment and clicking the 'start or join online consultation' link.