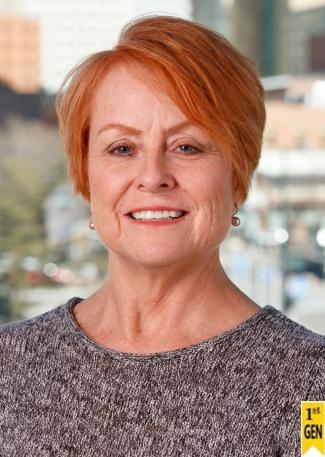 Professor & Department Chair
Sociology Department
Teaching/Expertise Areas:
Aging families, aging and society, and the impact of marriage and divorce transitions on midlife and older families
Post doctoral training: in Demography, University of North Carolina - Chapel Hill 1988-89
Ph.D., Human Development and Family Studies (Demography minor), The Pennsylvania State University, 1988
M.S., Human Development and Family Studies, The Pennsylvania State University, 1985
B.S., Psychology (Summa Cum Laude, Phi Beta Kappa), The University of North Dakota, 1981
Teresa Cooney is a social gerontologist and family sociologist who studies socio-demographic change and its implications for the adult life course. Her work focuses primarily on the impact of changing marriage, divorce, and fertility patterns for transitions in adulthood and adults' family roles and relationships. Her recent work has examined marital status differences in end-of-life planning (using national survey data), women's experiences of caregiving for ex-husbands at end-of-life (using primary qualitative data), and life course influences on successful aging in a longitudinal, survey panel. She is starting a new study that considers whether grandparents' support to adult offspring and their young families varies by the adult child's union and fertility history.  Dr. Cooney is a Fellow of the Gerontological Society of America.
Selected Publications
Cooney, T. M., (2020).  Grandparents' Support to Young Families: Variations by Adult Children's Union Status.  Journal of Marriage and Family.
Curl, A. L., Stowe, J. D., Cooney, T. M., & Proulx, C. M. (2014). Giving up the keys: How driving cessation affects engagement in later life. The Gerontologist, 54(3), 423-433.
Stowe, J. D., & Cooney, T. M. (2015). Examining Rowe and Kahn's concept of successful aging: Importance of taking a life course perspective. The Gerontologist, 55(1), 43-50.
Cooney, T. M., Proulx, C. M., & Snyder-Rivas, L. A. (2016, forthcoming). A profile of later life marriages: Comparisons by gender and marriage order. In G. Gianesini & S. Blair (Eds.), Divorce, separation, and remarriage: The transformation of family. Bingley, UK: Emerald Publishing.
SOCY 3700: Sociology of Family
SOCY 4650: Sociology of Adulthood & Aging
SOCY 3570: Death & Dying: Social and Medical Perspectives
SOCY 4290/5290: Aging, Society & Social Policy