Sociology provides the tools to analyze and understand the social world, including some of the most pressing issues of our time, such as the institution of U.S. policing, racial injustice, and health disparities like those resulting from Covid-19. Browse the Department of Sociology site for information on our programs, faculty research and opportunities for students.
Department
       of
 Sociology
SOCIOLOGY DEPARTMENT HOLDS VIRTUAL
INDUCTION CEREMONY FOR ALPHA KAPPA DELTA
Because of the COVID-19 Pandemic, the Department held a virtual induction for its new Alpha Kappa Delta (AKD) members who joined in May and December, 2020 and May 2021. We congratulate the students listed below on this distinction and their new lifetime membership in this international sociology honor society.  
SPRING 2020
Sheilah Mary Jimenez - Graduate Student
Kerry-Anne Laing
Amber Therese Lloyd
Valeria Ortiz-Rodriguez
Tylynn Alexandra Priest
Emily Ayn Schupbach
Kathryn Elizabeth Sullivan
Vincent Dinh Tran
FALL 2020
Andrew Ryan Aguilera
Adriana Gina Davis
Keegan Estrella
Jennifer Lynn Langle
Kristin Leigh Minzenmayer – Graduate Student
Michele Dominique Schilling
Desiree R. Salais – Fall 2020
SPRING 2021
Stephen N. Hall
Sarah Michelle Hulme
Selena Marie Gonzales Lamphier
Amanda Jeanne Malachowski – Graduate Student
Irene Muñoz
Briana Desiree Sanchez
---
SPRING 2021

Sociology
BA & MA Recipients
Micaela Flanigan – BA
Carlos Joel Guillen – BA
Kileigh Avalon Hammond – BA
Courtney Lange – MA
Jennifer Langle – BA
Andrea Iveth Marin Vazquez – BA
Mallorie Merboth – BA
Irene Munoz – BA
Rofeida Ouachem  – BA
Jessica Pacheco – BA
Tylynn A. Priest – BA
Desiree Rose Salais – BA
Briana Desiree Sanchez – BA
Kathryn E. Sullivan – BA
Bezza Taddess – MA
Cynthia Lan Anh Thach – BA
Vincent Dinh Tran - BA
PERSONAL CONGRATULATIONS
FROM SOCIOLOGY FACULTY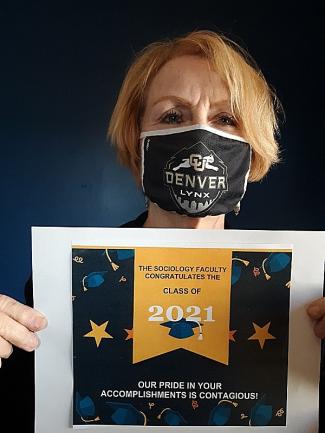 Congratulations from Dr. Cooney

Click *here* for congratulations
video from Dr. Guzik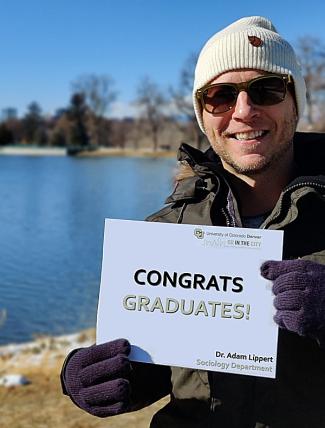 Congratulations from Dr. Lippert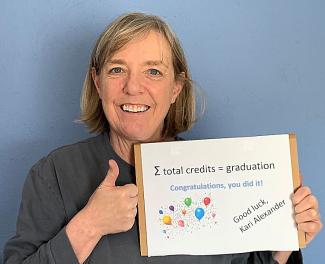 Congratulations from Dr. Alexander
---
Congratulations to Beza Taddess
Sociology MA Student


CLAS Outstanding MA
Graduate Student Spring 2021
---
Sociology for a Changing World
Sociology is the systematic study of the collective behavior and culture of groups and organizations of people. The Department of Sociology at the University of Colorado Denver offers a bachelor's degree, a minor, a concentration, three undergraduate certificates, as well as a traditional master's degree and a combined 4+1 bachelor's/master's degree.
21st century careers require analytical skills, collaboration, multi-cultural and global understandings, data literacy, and excellent written expression. A degree and certification in sociology provides students the knowledge, skills, and training necessary to succeed in today's workplace and make the world a better place—this includes careers in business/sales/marketing, social services, healthcare, the criminal justice system, education, and research.
---

Sociology Major, Emily Schupbach,
Shares Her CU Denver Experience
---
Our Programs
The sociology major at the University of Colorado Denver is tailored to help students develop the data analytical skills and thematic expertise necessary to enter a variety of employment fields. Available fully online.
The sociology minor allows students to take these analytical skills and apply them to other disciplines. Available fully online.
The department's certificates in Criminology, Families and Social Welfare, and Sociology of Health & Medicine provides majors and non-majors a focused program of study around major areas of practice in contemporary society. Available fully online.
The concentration in Gender and Society builds the understanding necessary for critically evaluating the role of gender in society and addressing contemporary problems such as the gender pay gap, health disparities, family roles, gender violence, and human trafficking. Available fully online.
The department's graduate programs provide students opportunities to advance their empirical research skills and leverage work and internship opportunities in the Denver metropolitan area to enter or advance careers in research, government, higher education, health care, and nonprofit services or gain entry into the nation's top Ph.D. programs in sociology.  
LYNX COVID VACCINATION INFO
CU Denver students, faculty,
staff, and their family members
who are at least 16 years old
are eligible to be vaccinated
at the Auraria Campus'
5th Street Garage. Check
*here* for info.
---
Click here for a list of Sociology
Maymester & Summer courses.
Enroll now before courses fill up!
---
FALL 2021 ENROLLMENT HAS STARTED! There are several important notes about Fall '21 & Spring '22 Sociology course offerings, please *view* to help plan your schedule! Click *here* to find your enrollment date! 
---
SOCIOLOGY MA APPLICATIONS
FOR FALL ADMISSION
WERE DUE FEBRUARY 15th
For questions about late applications or advising,
please contact the Graduate Program Director,
Dr. Adam Lippert:
adam.lippert@ucdenver.edu
---
We Are First Generation Too!
Many Sociology majors are first-generation college students. Several faculty in Sociology were among the first generation in their families to attend college too. On our webpage faculty directory we have put a first-generation tag alongside the photos ​​of those faculty who are willing to talk with students about this experience, and offer support and guidance. Please feel free to seek them out!