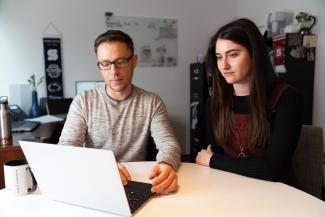 The Bachelor of Arts in Sociology requires a total of 120 credits, including 32 credits earned in sociology. In addition to required sociology courses, CU Denver has a set of core university requirements for all undergraduates. These include courses in the humanities, social sciences, behavioral sciences, and natural/physical sciences. CU Denver also requires that students demonstrate competency in mathematics and writing, either through testing or coursework.  Details on these requirements are available from the College of Liberal Arts and Sciences.  For more information, please visit: http://clas.ucdenver.edu/advising 
Students can earn a Bachelor of Arts in Sociology through on-campus classes or by doing the degree entirely online. Of the 32 credits of coursework required in sociology, at least 16 credits must be earned in 3000 or 4000-level courses. The maximum number of credits permitted in the major is 56.  Within the major, 20 credits are earned in required sociology courses, leaving 12-36 elective credits in sociology.  ​
Major Requirements
 If you declared Sociology as your major prior to Fall 2016, your requirements will be slightly different.  Please contact the Sociology undergraduate advisor to review your requirements. 
SOCY 1001 - Understanding the Social World (previously Introduction to Sociology) (3 credits)
SOCY 2001 - Inequalities in the Social World (3 credits)
SOCY 3119 - Qualitative Methods (4 credits)
SOCY 3115 - Quantitative Methods & Analysis (4 credits)
SOCY 3140 - Sociological Theory (3 credits)
SOCY 4830 - Senior Capstone: Worklife Practices & Policies (3 credits)
Elective Courses
Students also choose a minimum of 12 credits of elective courses from the sociology department.  Elective courses must be completed with a minimum grade point of a "C-" (1.7).  F's will not be averaged in.  3 of these elective credits must be at the 4000 level.
​Can I take General Education Requirements for the College of Liberal Arts and Sciences (CLAS) and have them apply to my Sociology Core requirements?
Yes, but you must total 120 credit hours. All credit hours taken through the Sociology Department cannot be added more than once to your total 120 tally of credits. The good news is, you free up your elective credits for a minor.
When should I contact an advisor about choosing courses in the Sociology Department?
All new and returning students should contact one of the sociology advisors during the first semester they enroll at UC Denver. Whenever you may need advising feel free to call or send an e-mail to the undergraduate advisor. The advisor is here to help make your undergraduate experience as easy and pleasant as possible. Please use the link below to find Sociology advisor's contact information.