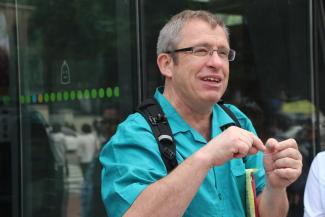 Associate Professor
Political Science
Physical Office Location: Student Commons Building, Office #3228
1201 Larimer Street
Denver, CO 80204
Expertise Areas:
American political institutions Poverty and politics Urban politics American political thought CU in the Capitol Grassroots empowerment and social movements.
Dr. Tony Robinson received his Ph.D. from the University of California, Berkeley, with an emphasis on the challenges of inner-city poverty and how grass-roots community organizing can address those challenges. At CU Denver, he specialized building connections between the resources of the university and surrounding urban communities. 
Robinson's community connections over the years included:
Serving as the former director of a HUD-funded Community Outreach Partnership Center, uniting university resources with Denver's low-income Westside communities.
Running for Denver City Council (At-Large)

Serving as the co-founder of groups such as Denver's El Centro Humanitario (an immigrant worker advocacy center) the Save Our Section 8 Low Income Tenants Organization, and the Denver Tent City Initiative (a homeless grass-roots advocacy coalition).

Serving as a board member for Denver Jobs With Justice, the Hangout Resource Center for people lining with Brain Injuries, and the El Centro Humanitario immigrant rights center.
As a teacher, Robinson directs the CU in the Capitol legislative internship program, coordinates student research internships with a variety of community groups, teaches a study abroad summer session in South Korea, and a GIS in Political Science course teaching students to use the sophisticated computer mapping abilities of CU Denver's Facility for Advanced Spatial Technologies as a research method.
Robinsons' research interests include American elections, urban political economy, and political-economic mapping projects.