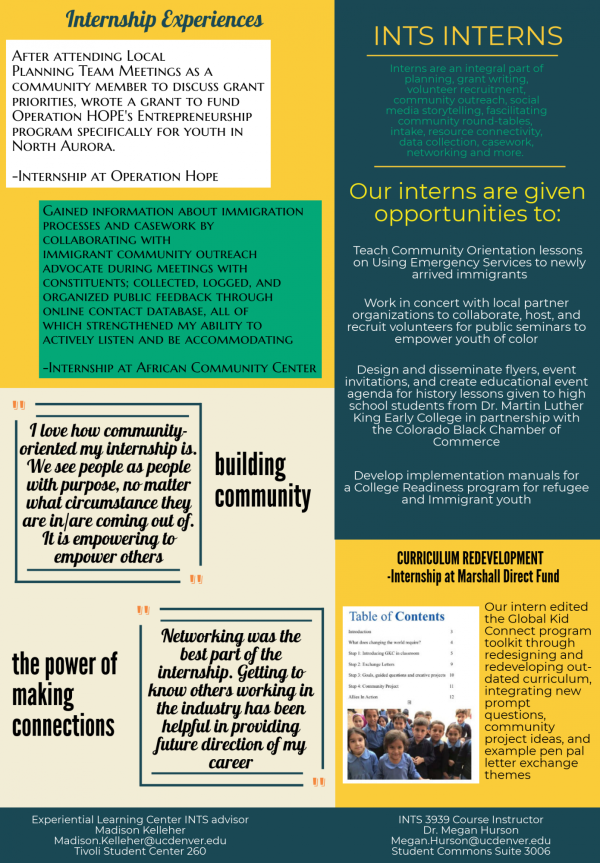 Dear INTS students,
Check out the professional opportunities that your classmates are experiencing via the INTS 3939 Internships course.
The research is clear: Interns get jobs!
It has been three years since the INTS program has started encouraging students to pursue internships, and look at the benefits! Please review the attached flyer for testimonials and information, and check out this partial list below. Consider these and other organizations for an internship this summer or next fall.
New Era Colorado
Lutheran Family Services Rocky Mountains
Center for Immigrants
Marshall Direct Fund
Sandomire & Kuberry, PLLC
Operation Hope
Colorado African Organization
Study Abroad: Bridging Global Divides in Berlin
Senator's Office - Michael Bennett
ECDC African Community Center
Denver Open Media
Asian Pacific Development Center
Evolution Media
For more information, contact the Experiential Learning Center's Madison.Kelleher@ucdenver.edu.
Regards,
Hamilton