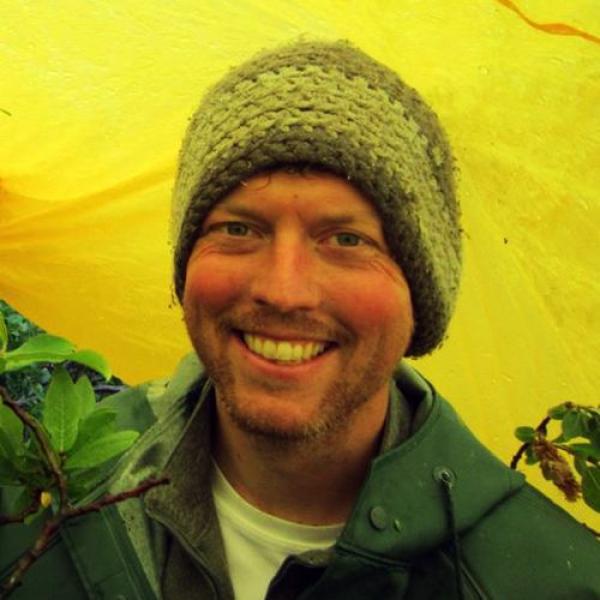 Assistant Professor Brian Buma is a new addition to the Department of Integrative Biology, and his office is on the fourth floor of the Science Building – yet as one speaks to him one can't help but picture him dropping out of a window. It's because the explorations Buma undertakes in the course of his research remind one of the scene in Indiana Jones and the Last Crusade where Professor Jones sneaks away from his academic environs, puts on that fetching hat, and goes out adventuring in service to expanding human knowledge.
Buma came from the University of Alaska Southeast, where he undertook research to rediscover and then explore glacial research sites that had been abandoned for decades. He was stepping into the footprints of a godfather of modern ecology, William Skinner Cooper, in order to study the same tiny parcels of Glacier Bay National Park that Cooper had begun researching in 1916. The last person with knowledge of how to get to Cooper's plots had died, but Buma knew that the landscapes themselves were still shifting and still had knowledge to impart. Buma first had to go hunting in the University of Minnesota archives for 100-year-old hand-drawn maps to find where the sites might be hiding.  Then, maps in hand, Buma led a National Geographic expedition with a few close colleagues to rediscover place in Alaskan that are usually reserved for roaming wolves and brown bears.
Buma's philosophy that science is not an end goal to be reached but a pursuit that is constantly improving means that he's not afraid to take on research that asks tough questions about traditional ecological stories. William Skinner Cooper had made the kind of observations in his Glacier Bay research there that were formational to modern ecology. By the 1990s Cooper's plots and his search to understand Glacier Bay's shifting ecosystems had been abandoned, yet his conclusions remained gospel. So Buma utilized and expanded on the longest running data set of its kind in the world, and ultimately found that Cooper's initial results needed updating.  Buma says that Coopers' conclusions were fundamental to he and fellow researchers' understanding of how glacial parts of the world are now changing in ways Cooper could never have foreseen – and because of the revival of those historical plots we know where those understandings fall short. As a result, we are a little closer to a true understanding of how ecosystems change over time. 
Buma stresses that without the preservation of long term data sets this kind of deep understanding is impossible.  He hopes that the public is becoming aware of how irresponsible calls to destroy historical records are, especially when data storage is so much more feasible now than it was in Cooper's day.  As a scientist Buma knows that we can simply never know when data will be useful in the future, and that historical data is truly irreplaceable.
In January, Buma will be leading a new National Geographic sponsored expedition to Cape Horn, Chile, to find the world's southernmost forests and trees. Along with that work, he co-coordinates a research network that spans the coasts of Alaska, Canada, the lower 48, and Chile in an effort to understand how those forests function and how they are changing (https://coastalmarginsnetwork.org/)
Bringing together impactful science and world-traveling adventure is a delicate balancing act, read more about how Buma pulls it off in his own words:
What are you most excited about looking forward to your Chilean Adventures?
I'm excited for lots of things, of course, but one of the most exciting aspects is actually pretty simple - I'm looking forward to being able to give people a single coordinate in Google Earth and say "Here - this is it.  This is where trees end. This is the last one, the one individual."  There'll be a picture - sure, there are lots of pictures of trees, but this will be the single individual, probably with only a few leaves and a tiny little stem, that represents the march of forests south as the climate warms.  I'm looking forward to identifying that concrete location, that physical symbol, and then sharing that with people.  I hope the ability to say "This is it!  This is the one!" can add some physicality to the sometimes abstract discussions of vegetation shifts, climate change, and ecosystem migration.
What was your path to CU Denver like? Were you a born scientist or were there some bumps in the road?
I started in Biology, always intending to focus on some aspect of science (though I did flirt with a classical literature focused liberal arts major for a while!).  After my undergraduate degree, I decided to get into science education, and pursued a MA in science ed.  While fun, I wanted to focus more on the research and implementation side rather than formal teaching, and so moved into conservation ecology at the Limahuli Botanical Gardens on Kauai, Hawaii.  That experience was central to my going back for a PhD - we worked in community education as well as research, and I truly enjoyed both.  So I decided to head back for a PhD and focused on forest change processes, started my research program in Alaska, and then decided to move to Colorado to expand that research program here.
What's your best advice for students (like you) who hope to have a bit of Indiana Jones type adventure in their careers?
First, don't be afraid to come up with impossible ideas and worry about the practical realities later - if it's a good idea, you'll make it work. Others will get excited.  You'll find funding.  And don't give up if you fail the first time, or the second time, or the third time.  It's a cliché, but if it were easy everyone would be doing it.  Not everyone, however, can put up with rejection and failure – so be the person that can. Third, if you want to be the type of person that does those sorts of things, do them!  Nothing gets done by wishing or daydreaming.  Cool things only happen if you actually do them. 
Long-term ecological research is difficult and expensive, what's your philosophy on why it's so important?
So much science is tied to human scales, spatial and temporal.  But many problems we're creating today are at such a vast scale - the whole globe, and multi-century - that studying them is hard. Long-term research is a way to transcend the limitations of a single lifetime of study or a single research project.  Maintaining data and projects over long periods of time is expensive and difficult, as research trends change, people move in and out, and priorities shift.  But that long-term data is irreplaceable.  No amount of money or effort can create long-term datasets, only time can. Beyond that, we never know what it'll be useful for in the future.  Perhaps some new phenomena will emerge and we'll need information on historical conditions. Long-term data is simply something that can be created no other way other than time.
You can read Buma's latest research publications on disturbance and succession across biological communities and landscapes on-line, with all his publications available on his website: www.brianbuma.com
 "The value of linking short and long-term perspectives to understand spatially-explicit ecosystem resilience." Buma B, Harvey B, Gavin D, Kelly R, Loboda T, McNeil B, Marlon J, Meddens AJH, Morris JL, Raffa K, Shuman B, Smithwick E, McLauchlan K. Landscape Ecology.  doi.org/10.1007/s10980-018-0754-5
 "Large, climate-sensitive soil carbon stocks mapped with pedology-informed machine learning in the North Pacific coastal temperate rainforests." McNicol G, D'Amore D, Sanborn P, Saunders S, Giesbrecht IJW, Gonzalez Arriola S, Bidlack A, Butman D, Buma B. Environmental Research Letters
"Patterns and drivers of recent disturbances across the temperate forest biome." Andreas Sommerfeld, Cornelius Senf, Brian Buma, Anthony W. D'Amato, Tiphaine Després, Ignacio Díaz-Hormazábal, Shawn Fraver, Lee E. Frelich, Álvaro G. Gutiérrez, Sarah J. Hart, Brian J. Harvey, Hong S. He, Tomáš Hlásny, Andrés Holz, Thomas Kitzberger, Dominik Kulakowski, David Lindenmayer, Akira S. Mori, Jörg Müller, Juan Paritsis, George L. W. Perry, Scott L. Stephens, Miroslav Svoboda, Monica G. Turner, Thomas T. Veblen & Rupert Seidl. Nature Communications