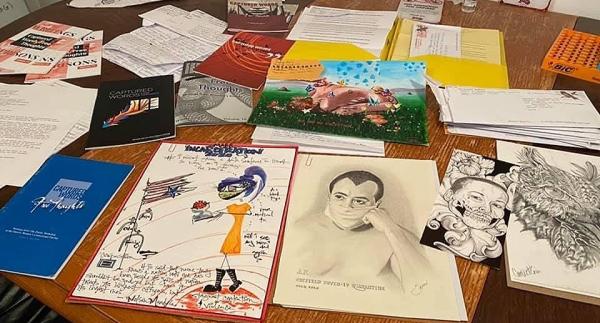 Writing and Art from America's Prisons
​​Check out the Volume 17 | Winter 2021 issue of Captured Words/Free Thoughts. The accompanying podcast for this edition can be heard here on the Dr. Junkie Show. 
Earlier editions of the magazine may be viewed at the links below. Please share your work with us by contacting Correspondence Editor, Dr. Benjamin Boyce, at Benjamin.boyce@ucdenver.edu, or via snail mail at the CU Denver Department of Communication, 1201 Larimer Street, Denver, CO, 80204.
The magazine represents a national coalition of educators, activists, and artists. Locally, the magazine flows from our work hosting educational workshops in Denver-area prisons and youth detention facilities. If you would like to join our team, please contact Dr. Stephen J. Hartnett, at Stephen.hartnett@ucdenver.edu. As of January 1, 2021, we are recruiting and training workshop facilitators for sessions to begin inside facilities on or around September 1, 2021, pending the fight against COVID.
Volume 16 | Winter 2020

Volume 15 | Summer 2018
Volume 14 | Fall 2017
Volume 13 | Summer 2016
Volume 12 | Spring 2015
Volume 11 | Fall 2013
Volume 10 | Fall 2012
Volume 9 | Fall 2011
Volume 8 | Fall 2010
Volume 7 | Fall 2009
Volume 6 | Spring 2009
Volume 5 | Spring 2008
Volume 4 | Summer 2007
Volume 3 | Spring 2007
Volume 2 | Fall 2006
Volume 1 | Summer 2006