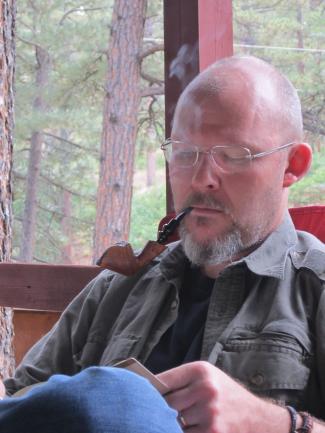 Ph.D.
Department of Anthropology
Mailing Address:
Department of Anthropology
Campus Box 103
PO Box 173364 
Denver, CO 80217-3364

Physical Location:
Auraria Campus
North Classroom
Suite 4002
Office Hours: By appointment
 
Dr. Beekman's research career has revolved around issues in ancient political organization and scales of social identity (individual agency, corporate group, and ethnic identity). The sociopolitical system of the Tequila valleys, Jalisco, from ca. 1000 BCE to 500 CE provides a distinctive case study in which power was shared between multiple lineages, subverting both individual identity and hierarchical power structures based on a single royal lineage. I have pursued this research through excavation at the settlements of Navajas and Llano Grande, study of the depiction of rulership in contemporary artwork, and computer simulation in collaboration with Dr. William Baden of Indiana-Purdue Fort Wayne. For the past decade I have worked in collaboration with Dr. Verenice Heredia Espinoza of the Colegio de Michoacán to survey the Tequila valleys and to analyze the vast excavated collections from the site of Los Guachimontones, Jalisco. Research on these topics has resulted in seven edited or multiauthored volumes published in the US and Mexico.
A second thread has been the integration of linguistic, biological, ethnohistoric, and archaeological evidence to study interaction between western Mexico and other regions. The first line of this research has been to investigate the introduction of Nahuatl speaking migrants into parts of highland Mesoamerica in the 6th century AD. A regional scale analysis identified a good degree of overlap between biology and the use of material culture, but a detailed site-specific study at Tula identified a much more complex situation in which migrants and the indigenous population used material culture to signal claims about identity and affiliation. This research began in collaboration with Dr. Alec Christensen of JPAC-CILHI and has since resulted in two edited volumes and independent articles. The second line of research has investigated the evidence for maritime contacts along the Pacific Coast between western Mexico and northwestern South America. This has resulted in an edited volume due to be published by Dumbarton Oaks in 2022.
He has served as undergraduate advisor for Anthropology (2005-2008), graduate program director (2009-2011), and department chair (2011-2017). His course offerings regularly include Anth 3301 World Prehistory, Anth 4810/5810 Integrating Anthropology, Anth 4320/5320 Archaeology of Mexico and Central America, Anth 4570/5570 Landscape Archaeology, 4400/5400 Archaeology of Power and Inequality, and Anth 6307 Contemporary Archaeology in Theory.
May, 1996 - Ph.D., Anthropology, Vanderbilt University.
June, 1989 - B.A. with high honors, Anthropology, Certificates in Museum Studies and Latin American Studies, from California State University, San Bernardino (CSUSB).
Books
Beekman, Christopher S., and Colin McEwan, editors. In press. Waves of Influence: Pacific Maritime Networks connecting Mexico, Central America, and northwestern South America. Dumbarton Oaks Research Library and Collection, Washington, D.C. Projected 2022.
Arnauld, Marie-Charlotte, Christopher S. Beekman, and Gregory Pereira, editors. 2021. Mobility and Migration in Ancient Mesoamerican Cities. University Press of Colorado, Louisville.
Englehardt, Joshua D., Verenice Y. Heredia Espinoza, and Christopher S. Beekman, editors. 2020. Ancient West Mexicos: Time, Space, and Diversity. University Press of Florida, Gainesville.
Faugère, Brigitte and Christopher S. Beekman, editors. 2020. Anthropomorphic Imagery in the Mesoamerican Highlands: Gods, Ancestors, and Human Beings. University Press of Colorado, Louisville.
Beekman, Christopher S., editor. 2019. Migrations in Late Mesoamerica. University Press of Florida, Gainesville.
Beekman, Christopher S. and Robert B. Pickering, editors. 2016. Shaft Tombs and Figures in West Mexican Society: A Reassessment. Gilcrease Ancient Americas Series, Gilcrease Museum, Tulsa.
Solórzano, Federico, Otto Schöndube, Fernando González Zozaya, Daniel Zizumbo Villarreal, Christopher S. Beekman, José M. Muriá, and Heriberto Moreno. 2015. Historia de Jalisco. Volumen I. Desde los Orígenes hasta Mediados del Siglo XVI. Second edition, six volume set. Gobierno del Estado de Jalisco, El Colegio de Jalisco, and Miguel Angel Porrua, México, D.F. [not peer reviewed]
Weigand, Phil C., Christopher Beekman, and Rodrigo Esparza, editors. 2008. La Tradición Teuchitlán. Colegio de Michoacán, Zamora, México.
Beekman, Christopher S. and William W. Baden, editors. 2005. Nonlinear Models for Archaeology and Anthropology: Continuing the Revolution. Ashgate Press, Aldershot, U.K.
Beekman, Christopher S. and Phil C. Weigand. 2000. La Cerámica Arqueológica de la Tradición Teuchitlán, Jalisco. Colegio de Michoacán and the Secretaría de Cultura del Estado de Jalisco, Zamora, Michoacán.