Program Planning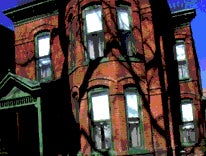 This program has been designed to encourage our students to recognize how democracy, education, consumerism, media, race, class, and gender intersect. The intent of the Social Justice Signature Area's programs is to recognize and foster the many ways that our students are already engaged as citizens, the desirable possibilities that remain unrealized and their power to effect that actualization.
Elements of the Proposed Program
We propose a program of theoretical and problem-based courses and experiential learning projects including internships, volunteer work, and service learning and/or venues for the public dissemination for the work being done within the program. We would draw from existing courses and create new ones, initiate new core seminars team taught with an interdisciplinary perspective at the beginning and end of the program, as well as develop colloquia, symposia and conferences both driven by and including students, faculty, invited speakers and local community.
Working Toward a New Minor Curriculum
Preliminary plans for the minor program include the following in an 18-credit hour curriculum:
One initial interdisciplinary seminar (3 credit hours)
One 2000-level and two upper-division social science and humanities courses from an approved list (9 credit hours)
One upper-division experiential learning component (3 credit hours)
One capstone interdisciplinary seminar (3 credit hours)
The initial interdisciplinary freshman seminar team taught by a humanities and a social science faculty member would examine: a) the history of creative and intellectual expression to reveal how ideas influence everyday practice and b) how theories and movements of social justice have informed each other and both expanded and limited human potential. It would also involve student interaction with community advocacy groups to learn about their perspectives and needs.
The list of humanities and social science courses approved for this minor would include some 2000-level core courses (existing and ones developed for this theme) and some 3000 and 4000-level courses offered by departments. A list of existing and new courses that might be part of this program are listed below.
The experiential learning course could be taken in any of the participating disciplines as long as it included work in the community, a reflective component and some type of public dissemination.
The team-taught capstone seminar team would provide students opportunities to create group projects and to reflect further upon the experiential learning projects. At the end of the course there would be public presentation of the group projects.
Working Toward Options for Graduate Students
At the Master's level, "Social Justice, Civic Engagement, and Critical Consumption" would be a track/option relevant for Master of Social Science and Master of Humanities students interested in vocations or avocations with advocacy organizations and secondary school teachers in humanities and social studies.
In addition to the required courses in MH or MSS, students in this track would complete a new interdisciplinary seminar,"Social Justice, Civic Engagement and Critical Consumption," fifteen hours of approved electives (see the course list below), and 3-6 hours of a culminating project or thesis. The new interdisciplinary seminar would be a more advanced version of the initial seminar in the undergraduate minor with instruction in conducting research and writing reports.
The learning goals of this interdisciplinary endeavor are that students:
develop skills in critical thinking, oral and written discourse, and problem solving so that they can reflect on their own moral values and civic responsibilities;
critically assess how they are defined and influenced by various forces such as media and institutions that describe and prescribe ours and others' cultures;
understand the beliefs and values of others despite differences;
engage in dialogue to resolve conflicts and design solutions; and
work in a collaborative and cooperative manner to advance issues and create change.
Program Components Already in Place
Most of the courses that would be part of this program are already taught in CLAS (see examples below).
Many CLAS faculty teach courses that touch on one of the three areas, and a few teach in two of them. This program would draw together existing strengths in new ways. It will stretch the faculty who focus on critical theory to apply the theory to social justice issues and experiential projects in the community, and it will stretch the faculty who focus on social justice and experiential education to link these efforts more explicitly with critical theory.
Several departments have long-standing experiential education components in their undergraduate majors with faculty sponsoring students in internships in the community with non-profits, government agencies and businesses. Both Communication and Political Science departments emphasize civic engagement.
The Communication Department identifies its mission as "the development of the skills, knowledge, and abilities necessary to use communication to create a more civil and humane world." The Political Science Department lists as its goals: "to be relevant to real-world concerns; help students gain practical experience in testing ideas and building knowledge through community engagement; feature instructors with a history of social engagement, and, above all, foster engaged citizenship in students." These foundations can be built upon in establishing the civic engagement aspect of this program. In turn this program can make an important contribution to the UCD thematic area on experiential learning and engagement.
Selected courses (illustrative, not exhaustive)
Lower division courses in the humanities and social sciences
ETST 2036 American Indian Cultural Images
GEOG 1602 Introduction to Urban Studies
PHIL 1020 Introduction to Ethics
PSC Democratic Theory and Practice (new)
Upper division courses in humanities and social sciences
ANTH 3142 Cultural Diversity in the Modern World
ANTH 3200 Human Migration: Nomads, Sojourners and Settlers
ANTH 4070/5070 Culture of Development and Globalization
CMMU 4022/5022 Critical Analysis of Communication
CMMU 4200 Persuasion
CMMU 4215/5215 Ethics in Communication
CMMU 4260 Communication and Conflict
ENGL 4180 Argumentation and Logic
ENGL 4280/5280 Proposal and Grant Writing
ENGL 4701 Multimedia and the Community
ETST 3002 Ethnicity, Health and Social Justice
ETST 3274 Power, Poverty and Culture
GEOG 3411 Globalization and Regional Development
GEOG 4640/5640 Urban Geography
HIST 3235 US Labor History
HIST 3611/ ENGL 3400 Survey of Feminist Thought
HIST 4028/5028 Nineteenth Century Intellectual History
HIST 4217/5217 Consumer Culture
PHIL 3200 Social and Political Philosophy
PHIL 4101/5101 Pragmatism
PHIL 4102/5102 American Ethics
P SC 3034 Race, Gender, Law and Public Policy
P SC 4025/5025 Local Government and Globalization
P SC 4207 Theories of Social and Political Change
RLST 4000 Religion and Cultural Diversity
SOC 3001 Urban Sociology
SOC 3030 Social Change
SOC 4160/5160 Contemporary Sociological Theory