---
College Honors and Department Honors
There are two ways in which a student graduating with a Bachelor of Arts or Bachelor of Science degree in Psychology can graduate with honors. First, the College of Liberal Arts and Sciences (CLAS) awards the honor of graduating "With Distinction" primarily based on the student having a high overall grade point average.  The second form of honors, "Latin honors" (cum laude, magna cum laude, summa cum laude), is awarded by individual departments within CLAS.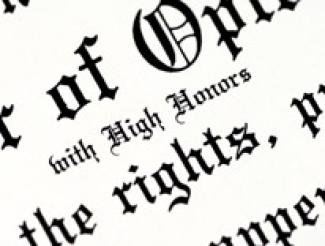 The CU Denver Psychology Department has approved a very rigorous set of requirements for Latin honors, described below. Successful completion of an honors project is at least a year-long, multifaceted process in which the student makes a contribution to our knowledge in Psychology. A student who satisfies these requirements will have truly earned a noteworthy academic achievement of which they should be rightfully proud.
To be eligible for the Psychology honors program, you must:
Be a Psychology major
Be at least a junior
Have an overall GPA of 3.5 or higher at the start of the project
Have a GPA of 3.5 or higher in psychology courses taken at UCD.
Have a faculty mentor for your project
What types of projects are appropriate for an honors thesis?
An honors thesis can take one of the following forms:
An original empirical study designed and carried out by the student. The experimental design must be substantially complex to warrant honors. Honors students may collect their own data for this project or may use archival data for the purposes of answering their own original question. A research question is considered to be substantially complex enough if the analyzed data would be of high enough quality to be presented at a regional research meeting.
A substantive, integrative library review in an area approved by the honors committee, culminating in a high quality review article which includes proposed research directions designed by the student to gather knowledge lacking in the current scientific literature.
A substantive, integrative critical analysis of a major theoretical issue in the field of psychology approved by the honors committee and culminating in a high quality theoretical paper.
What are the requirements for earning honors in Psychology?
In addition to formally proposing your project to your honors committee, completing the approved project, writing the thesis, and ultimately successfully defending your honors thesis, you must take three honors courses.  They are:
PSYC4680 - Behavioral Sciences Research Seminar (1 cr.) - Every Semester
PSYC4780 - Behavioral Sciences Research: Ethics and Issues (3 cr.) - Spring Semester
PSYC4090 - Research Design and Development (3 cr.) - Fall Semester
You must register PSYC4680 every semester you are working on your honors thesis.  The other two courses should be taken only once and can be taken in any order.
In addition to these courses, you can register for up to 6 credit hours of "PSYC4880: Directed Research" if and when it is helpful to your project.  You should discuss this with your faculty mentor.
What is an honors thesis committee?
You must arrange for three faculty members to serve on your thesis committee, only one of whom may be external to the Psychology Department. One of the faculty members must be designated as the chair of the committee. The chair must be a full-time member of the CU Denver Psychology Department and at least one member of the committee must be of tenure track rank, unless a waiver is granted by the Dean's office. All members of the committee must be chosen during the semester in which the proposal is being written.
How are honors judged and awarded?
Enrolling in the Honors program and writing a thesis do not guarantee that you will receive Latin honors.  Your faculty committee determines the worthiness of your project for Latin honors at the defense of your thesis.  The student's GPA and thesis quality as evaluated by the thesis committee are evaluated for determination the Latin honors levels of distinction.
How do I sign up for the honors program?
Students interested in research are encouraged to pursue opportunities as early in their academic career as possible. These early research experiences can be useful in helping formulate research ideas and hypotheses that can form the basis of an honors thesis project. Make an appointment to speak with your major advisor to determine if an honors thesis is right for you.
EXCEPTIONS
Exceptions to these rules may be granted via a student appeal supported by all of the committee members and submitted to the Psychology Department Chair. The appeal must be supported by all committee members and approved by the departmental chair.
The College also awards honors—see CLAS Undergraduate Academic Honors.
Rev. 05/14