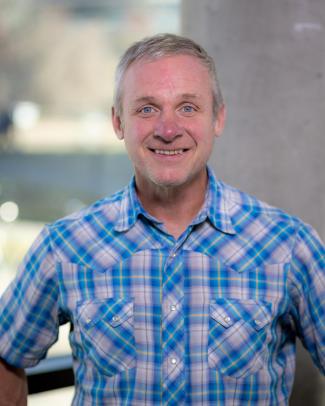 Assistant Professor C/T
Political Science
Physical Location: Office #3217 - 3rd Floor of the Student Commons Building
1201 Larimer Street
Denver, CO 80204
Dr. James Walsh began teaching at CU Denver in 1998, moving to the Political Science Department in 2013. He was recently recognized by the university for his 25 years of service. He specializes in Labor, Working Class and Immigration History/Politics, as well as U.S. Social Movements, Community Organizing, and Arts-Based Education. Dr. Walsh founded the Romero Theater Troupe in 2005, an all-volunteer "organic" theater troupe that specializes in telling and preserving stories about struggles for human rights and social justice for diverse audiences. He uses theater and community-based learning in his classes.
Expertise Areas: Labor and Immigration History/Politics, Social Movements in the U.S., Irish American History, Community Theater, Community Organizing
Ph.D.  University of Colorado Boulder 2010
M.A. University of Colorado Denver 1996
B.S.  Duke University 1989
Walsh, J.P., "Michael Mooney and the Leadville Miners' Strike of 1880,"  in Irish Migrants in New Communities: Seeking the Fair Land, edited by Michael OhAodha and Mairtin O'Cathain. Rowman Littlefield, Lexington Books, 2014.
Walsh, J.P., Tom Noel, and Dennis Gallagher. Irish Denver. Arcadia Press. February 2012. Walsh, J.P. 2012. 
Walsh, J.P., "Dreams From the Podium," Jesuit Higher Education: A Journal, Vol.1, No.1:125-133. www.jesuithighereducation.org/index.php/jhe/article/view/15
Walsh, J.P. 2010. "The Irish Road to Leadville," Mining Heritage Trust of Ireland Journal, Spring 2010.
Walsh, J.P. 2007. "The Leadville Irish," Celtic Connection Journal, March 2007.
Power and Empowerment
Poverty and Politics
Immigration Politics
Irish in America
Political Movements
Community Organizing
"Paths to the Present," an introduction to the discipline of history
U.S. History survey courses
History of the American Working Class
Immigration and Ethnicity in American History
Twentieth Century Social Movements
Colorado History
U.S. History Through Fiction
Problems and Methods in Teaching History and Social Studies