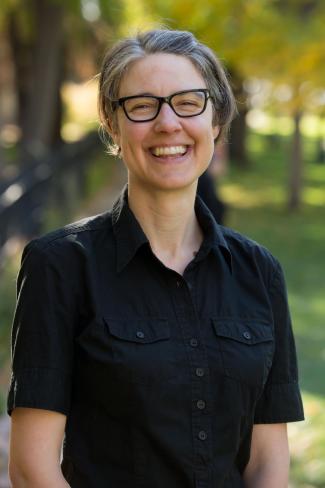 Chair of Philosophy • Associate Professor, PhD
Philosophy
Office: Plaza M108 J
Mailing Address:
Department of Philosophy
P.O. Box 173364
Campus Box 179
Denver, CO 80217-3364

Physical Location:
955 Lawrence St.
Plaza Building, Room M108
Office Hours for Fall 2022:
Mondays 2:00pm to 3:00pm and by appointment
Expertise Areas:
Feminist Philosophy and Critical Prison Studies
Ph.D.  Philosophy, Vanderbilt University, August 2011
B.A.  Philosophy, Earlham College, 2002
Books
Where are the Women? Why Expanding the Archive Makes Philosophy Better, (New York: Columbia University Press, 2018).
Philosophy Imprisoned: The Love of Wisdom in the Age of Mass Incarceration, co-edited with Joshua Hall, (Lanham: Lexington Books, 2014).
Articles/Chapters
"The Heart of the Other?" in Deconstructing the Death Penalty: Essays on Derrida's Death Penalty Seminars edited by Kelly Oliver and Stephanie Straub, (New York: Fordham University Press, 2018). 
"Feminism and the Carceral State: Gender-Responsive Justice, Community Accountability, and the Epistemology of Antiviolence," co-authored with Brady Heiner, Feminist Philosophy Quarterly, 3.1 (2017): 1-36.
"Prison Abolition and a Culture of Sexual Difference," in Death and Other Penalties: Philosophy in a Time of Mass Incarceration edited by Geoffrey Adelsberg, Lisa Guenther, and Scott Zeman, (New York: Fordham University Press, 2015): 210-224.
"Experiments in Responsibility: Pocket Parks, Radical Anti-Violence Work, and the Social Ontology of Safety," Radical Philosophy Review, 17.2 (2014): 421-434.
PHIL 3500: Culture and Ideology: Racism and Sexism
PHIL 4812: Gender and Sexuality
PHIL 4812: Reclaiming Women Philosophers
PHIL 4812: The Woman Question