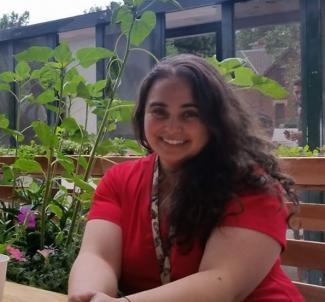 Dr. Lamya'a Dawud, 2020, Ph.D. Graduate in Integrative Department and former student in Dr. Sondra Bland's lab, has officially become an NIH T32 Post-Doctoral Fellow! 
This training program aims to recruit, select and retain outstanding trainees, promote inclusive excellence, provide high quality training, educational, and career development experiences to prepare trainees for research-intensive and research-related careers; shape tomorrow's scientific leaders, foster rigorous and collaborative sleep and circadian science, ensure successful progress of trainees toward predetermined milestones defined in Individual Development Plans; and expand the number of investigators conducting transdisciplinary sleep and circadian science.
Her T32 grant title is: Effects of Mycobacterium vaccae, a bacterium with anti-inflammatory and immunoregulatory properties, on negative outcomes following a "two-hit" stressor model of chronic disruption of rhythms and a high fat diet in male and female C57BL6/N mice
She will be working with: Dr. Christopher Lowry, Dr. Nichole Reisdorph, Dr. Mark Opp, and Dr. Kenneth Wright.
She also hosted her first conference with the rest of the T32 team known as the: 2nd Annual University of Colorado Sleep and Circadian Summer School August 18-20, 2021. Supported by NIH/NHLBI T32 "Transdisciplinary Training in Sleep and Circadian Rhythms" College of Arts and Sciences and the Vice Chancellor for Research at the University of Colorado Boulder Organizing committee: Dana Withrow, Helen Strnad, Dr. Lauren Hartstein, Dr. Lamya'a Dawud, Prof. Kenneth P. Wright Jr.