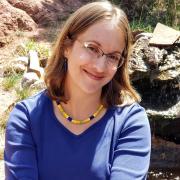 Dr. Rachel Jabaily
Assistant Professor
Department of Organismal Biology & Ecology
Colorado College
WHEN:  Feb. 5, 2021 at Noon
WHERE: Seminar will be presented via Zoom
Please complete the RSVP FORM to receive the Zoom Meeting link.
Life history evolution of the Neotropical plant family Bromeliaceae
The Bromeliaceae, or bromeliad, plant family is a classic example of adaptive radiation, with over two thousand species occupying many niches throughout the New World tropics. My research focuses on a neglected suite of adaptive features that contribute to overall life history strategy, which span across the family from fully semelparous to many types of iteroparous. How bromeliads build their modular rosette-formed bodies dictates when in development sexual or asexual reproduction occurs, and the consequences of each. Through multi-year greenhouse experiments with undergraduates at Colorado College, and in collaboration with other liberal arts colleges, we have developed a framework for the complexity of life history within Bromeliaceae.
Everyone is welcome to join the seminar, please complete the RSVP FORM to receive the Zoom link.