Event Information
Who: Drs. Gabriele Pfister and Frank Flocke, National Center for Atmospheric Research, Boulder
What: Denver Café Scientifique 1 at Blake St. Tavern!
When: Monday, Nov. 12, 2019 at 6:30pm
Where: Blake Street Tavern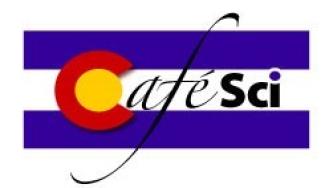 The Topic: "Clean mountain air- or not? Air quality in the Colorado Front Range"
In 2014, NCAR, in collaboration with NASA, NOAA, and a number of partner universities, as well as the Colorado Department of Public Health and Environment, conducted a large experiment using aircraft and ground observations to investigate in depth the summertime air quality in our region. The Northern Front Range Metro Area (NFRMA) currently violates the U.S. EPA National Ambient Air Quality Standards for ozone on a regular basis in the summer and is expected to be downgraded to a "serious" rating because of these violations. The American Lung Association has given the Denver Area an "F" for Air Quality. We will present results from this study, explain how ozone pollution is formed, what the main contributors to air pollution are, and how all our activities down here in the Front Range affect our mountains.
VISIT OUR NEW WEBSITE FOR MORE INFORMATION!
EVERYONE IS WELCOME. The talk starts at 6:30. Come before 6 PM to leave yourself time to get something to eat. We end around 8 PM. 
Blake St. Tavern is at 2301 Blake St., close to Coors Field. Parking in a lot adjacent, or at meters on the street.
We welcome your input, including ideas for speakers and topics. Bring them with you to the next Café, or e-mail them and any questions to Eric Meer