Department of Ethnic Studies
Photos courtesey of Frankee E. Morning, III
Simon Moya-Smith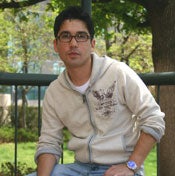 "After my graduation from CU Denver, I achieved a literary position as a legislative reporter for the 2008 Colorado State Legislature. While a reporter for local newspaper Law Week Colorado, I also volunteered my time as a speechwriter and researcher for Colorado State Senator Suzanne Williams, D‑Aurora, concerning the State's first legislation recognizing the genocide of the American Indians. Senate Joint Resolution 31 passed 22‑12 in the Senate and 59‑4 in the House on May 1, 2008.
"Soon after the legislative season came to an end, and with SJR031 realized, I was hired by the Denver Post as a community journalist, where I can still be found chasing stories today."
---
Junior Reina-Toc: Middle School Coordinator, Center for Pre-Collegiate and Academic Outreach Programs, University of Colorado Denver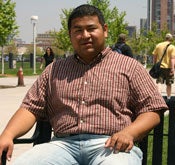 "Movimiento Estudiantil Chicano de Aztlan (MEChA) consists of students who have dedicated their lives and skills to the advancement of the principles of human rights and to the needs of the Chicano community. MEChA is able to unite in one common purpose: a demand for respect for human dignity and true equality and justice for all members of this society. They struggle to learn and learn to struggle—not for individual gain but to serve our Chicano/Chicana people. Our organization strongly believes in the right to a fair and equal education. Education, we believe, is the key to improving the social and political situation of the Chicano/Chicana community." 
Other Ethnic Studies alumni jobs 
Engineering Tech at an oil and gas company
Circulation Clerk at a library
Business School Advisor
Denver Social Services
Kunsmiller Middle School
UCDHSC Alumni Relations
Broker Associate
Program Assistant

Hewlett Packard
Level 3
Admissions Office
Oracle
State Social Services
Indian Health and Family Services
Adams County School District
East High School
---
Where your career can go with an ethnic studies degree
Many of the career opportunities with government agencies and nonprofit organizations are in the areas of administration and human services.
Representative job titles and areas of specialization include:
Administrative Analysts
Writer/Editor
Advertising Agent
Personnel Analyst
Bank Officer
Probation Officer
Bilingual Education Consultant
Claims Adjuster
Public Administrator
Public Relations
Community Organization Worker

Researcher
Customs/Immigration Inspector
Revenue Agent
Foreign Service Officer
Staff Analyst
Grant/Proposal Writer
Group Counselor
Industrial Relations Specialist
Intelligence Analyst Substance Abuse Counselor
Management Trainee
---
Places of employment include:
Advertising agencies
Hospitals
Banks
Insurance companies 
Museum retailers
Social service agencies
Universities and colleges
Publishing companies
School districts

City, county, state government
Research and educational institutes
Federal government
•Department of Health and Human Services
•Department of State
•Immigration and Naturalization Services
•Internal Revenue Service
•Office of Personnel Management
•Social Security Administration