Interview: Alumni Roselyn Small
By: Michelle Batalla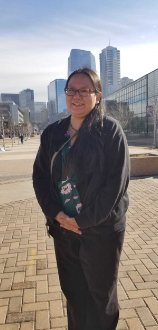 It was an honor to interview alumni Roselyn "Rosie" Small, who was a CU Denver student. She graduated in 2014 with Ethnic Studies and Psychology degrees and completed a masters in Mental Health Counseling. Like many Ethnic Studies students, she found her place in the Ethnic Studies Department after being inspired by the instructors. She mentions that it was a professor at the Ethnic Studies Department who guided her to Ethnic Studies. From the very first course, Introduction to Ethnic Studies, Rosie was intrigued. These classes resonated with her because they taught the histories of minorities. This is very important to Rosie since she is Native American, specifically Navajo. Rosie's early years at CU Denver were not easy because she struggled to find a major that resonated with her. Rosie needed a class that resonated with her identity and as a result, she found Ethnic Studies and found her field of study.
Rosie mentions that it did take her six years to graduate. Although it did take Rosie longer to graduate it was meant to be; since back then Ethnic Studies was not offered as a major but a minor. She is glad that she waited a little bit longer in school. If not for the wait she would not have had the opportunity to make Ethnic Studies her major. In terms of how the campus has changed, Rosie noticed that there are newer buildings at Auraria Campus compared to when she attended. When questioned on what the assistance in college was during her attendance, she said that she found all the support she needed in the Ethnic Studies Department. There was also a Native American club that helped her throughout her college career as well.
After Rosie graduated from CU Denver with her undergraduate degree in Ethnic Studies, Rosie entered a career as a phlebotomist. Her reason for becoming phlebotomist was because of family influence. Many of her family members were in the field of phlebotomy and drew inspiration from the family career path and as a result, she became a phlebotomist. Rosie mentions that she is not working in this career now because she had chosen to enter graduate school instead. She is studying psychology and wishes to pursue a career in therapy. She wants to practice mental health therapy at Native American reservations. When asked why she choose this new career path Rosie says it was because of her uncle. He had served in the Vietnam war, and when he came back, he was suffering from mental health. The only way he could cope was by drinking which eventually led to his death. Her uncle's story impacted her deeply because she felt not enough resources are available to Native Americans on reservations dealing with mental health issues and that within the community it is hard to talk about mental health issues. Her uncle's story is the driving force that is influencing Rosie's current educational path and eventually her future career path. Rosie is about to graduate in May with a master's degree, and is excited and looking forward to starting her new career.
Throughout this interview we also talked about Rosie's life growing up in Colorado. I asked Rosie if she was able to immerse herself in her culture growing up and she stated that she was able to engage in her culture growing up. She said, you could tell the difference between her city life and her native life. In the city her experience with the school system was different because she was one of the few people of color there. She mentions, it was hard to understand her history or culture through an educational perspective. But with the help of programs such as the Jefferson County Indian Education programs, she was able to help find her identity. She says, that this program guided her towards college and without this program she is not sure if she would have gone to college. Rosie is the first one in her family to go to college. This made it difficult to navigate college for her and yet, she was able to get adequate help needed to navigate college through the support of the Ethnic Studies Department; this support was seen through the moral and academic support of her teachers. In terms of cultural interaction, Rosie mentions that she did interact with her culture in the form of ceremonies at the reservations. At the reservation she was able to immerse herself in her culture and created close family bonds. She does mention that there was a language barrier. The language barrier was a result of not living close to her family members and that language barrier saddened her quite a bit. Yet, she has still been able to gain wonderful experiences learning about her people and culture regardless.
Rosie recommends Ethnic Studies courses. She says it is a great way to learn about your culture and stay connected with your community.
__________________________________________________________________________________________________________________________________________________________________
Interview with Kiana V. Kaibetoney
By: Clint Alfonso Lewis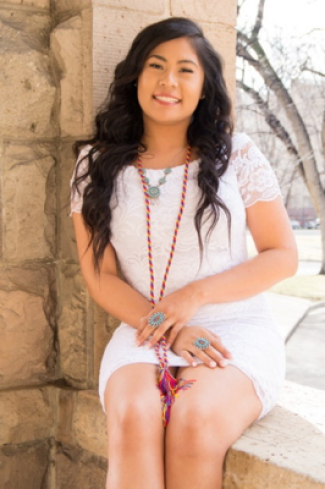 Kiana V. Kaibetoney is a senior at the University of Colorado Denver (UCD) and will be graduating in May of 2019. Kiana majors in Psychology with a double minor in Communications and Ethnic Studies. After graduation, Kiana plans on moving back to the Navajo reservation for a year before applying to Arizona State University for Graduate School.
Kiana is a humble person who inspires those around her with her selflessness, her ability to listen and communicate, and her natural gift of being a light for other human beings. Kiana's story begins with strong roots both in family and culture. Born in Denver, Colorado, to teen parents, Kiana was raised by both her mother's parents in Denver and her father's parents in Arizona. Kiana identifies as biracial as her mother is Cambodian and her father is Navajo. In addition to being biracial, Kiana also was raised in a traditional way in both cultures. This traditional way of being raised instilled in Kiana a strong sense of family, as she was also a caretaker for her maternal grandmother.
Kiana's childhood was spent between going to school in Denver and traveling to the Navajo reservation in Arizona during school breaks. She continues to go back to Arizona once or twice a month for ceremonies. Kiana is also multilingual, being raised in both traditional cultures and going to American schools; she is fluent in Cambodian, Navajo, English, and Spanish. In high school Kiana took a pre-collegiate program which helped her to write and apply for scholarships and ultimately led to her decision to attend the University of Colorado Denver. She decided to pursue Psychology as a major because of her love for meeting people and being an open person. She is down to earth and shows kindness to those around her. Kiana decided to also double minor in Communications and Ethnic Studies because she enjoys listening to people's stories, loves learning about cultures, and wants to continue her learning of how to communicate well with people, which connects all three fields of study.
Kiana has worked hard during her time at the University of Colorado Denver. She has been a full-time student and has worked two-part time jobs all four years she has been at UCD. Currently, she works at an elementary school in the mornings and evenings while going to her classes in between. Kiana expressed humbleness and gratitude when sharing her experience while being a student at UCD. Kiana is also student loan and debt free. Building relationships with faculty and staff, her hard work in and outside of the classroom, and being a four year Martinez Scholarship recipient, she has achieved what many have not. Kiana did not stop at being a full-time student and working two-part time jobs, she has also completed three study abroad programs in Guatemala and started and is president of the Multiracial Biracial Student Alliance (MBSA) at the University of Colorado Denver. While completing her three study abroad programs in Guatemala, Kiana worked with the Mayan people. Kiana shared that her time working with the Mayan people showed her how similar their culture is to her own. Before graduating Kiana wants to have a service for Mixed Race students.
After graduating in May of 2019, Kiana will be moving back to the Navajo Reservation in Arizona. She will be working at an elementary school in the Navajo Nation, where she wants to help to encourage the youth about opportunities and life outside of the reservation. Kiana expressed how our country does not know about what life is like on the rez and how there are third world issues occurring within the United States which need to be addressed, including how some people still do not have electricity and running water. Listening to these issues that are occurring on reservations brought us to another aspect of our human experience where she spoke about how we see one another and how we see ourselves. She discussed the multiple aspects of identity including the breaking of labels that are placed upon people. She used an example of a person who is incarcerated is seen as this single label only, rather than as a human being who is also a son, brother, father, etc.
Listening to Kiana tell her own story and share her ideas was inspiring, humbling, and genuine. She is generous, hard-working, uplifting, and caring, along with being a student, daughter, granddaughter, sister, niece, cousin, and friend. Her story shares how someone who taps into their potential can and do achieve great things even when hardships occur. Kiana has created safe spaces and has contributed to the University of Colorado Denver in her four years of being here.
__________________________________________________________________________________________________________________________________________________________________
Interviewed: Reydesel Salvidrez
By:  April Lowe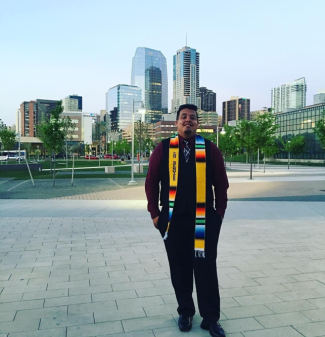 Reydesel Salvidrez, who also goes by Rey, is a graduating Ethnic Studies and Communications student. Rey demonstrates hard work and leadership from his background and experiences at the University of Colorado Denver.  As an undocumented student born in Chihuahua, Mexico, to young parents, he faced struggles that other UCD students may not face. To better support their family, Rey's parents decided to move from Mexico to the United States. Growing up in his household, there was an uncertainty of attending college due to U.S. policies towards immigrants. The uncertainty of college and the lack of support from guidance counselors at his high school, Rey started his academic career to pursue higher education by completing an additional year of high school. By completing an additional year of high school, Rey had hopes of political reform in regard to immigration. However, during that year there wasn't any progress in immigration policies. Even though there was no progress, Rey began his first semester at UCD in 2011 as a first-generation student. The first three weeks of attending college was a roller coaster. There was excitement to pursue his interest in criminology but also stress to pay for his tuition if he could be considered as an in-state student compared to an out-of-state or international student. Due to these stressors, depression and low self-esteem were developing in Rey's mind. "What is my purpose," was the essential question in figuring out his motivations and goals in life.      
As academia was not an option for Rey in 2011, he dropped out and began helping his father with construction work. In the least expected place, Rey received motivation and support. The crew workers he worked with wanted him to maintain hope that he will have a better outcome and to remain positive. Moreover, by having younger siblings, Rey's motivation grew immensely. His future impacted more than himself. By aspiring to attend college, he knew that would provide guidance to his younger siblings to be successful. In June 2012, President Barack Obama enacted Deferred Action for Childhood Arrivals, also known as DACA. DACA was the legislation Rey was optimistic about occurring in 2011. Now that it had arrived there was a typical amount of skepticism towards it, as it asked for a vast amount of information. Rey had the thoughts, "should I trust this, will they deport me if I provide this information?" With a push from his parents, Rey reapplied to UCD. The process for DACA included being approved through homeland security. While waiting for approval, Rey decided to apply to Metropolitan State University. Metropolitan State University required Accuplacer testing which revealed to Rey that he was not exactly ready for college courses. With help from Metropolitan State University, Rey began taking courses at Community College of Denver (CCD). At CCD, Rey fulfilled core requirements as well as earned an associate degree in business while working full-time in construction. Rey is a non-traditional student, as he experienced a rocky path in order to pursue higher education. This rocky path was not without emotional problems, stress, and uncertainty. Rey was still able to prosper by starting his academic career at CCD.
After completing an associate's degree, Rey wanted to attend Metro due to a false perception of UCD. At the time, Rey presumed UCD was for wealthy students, however, a meeting with a mentor proved that UCD had a lot to offer and was a diverse campus. In 2015, Rey transferred to UCD with an interest in business management and a minor in communications. His first year was a struggle to grasp the requirement for upper division courses as well the amount of effort needed to put into classes. CCD was a good beginning step into taking classes, but Rey did not anticipate the commitment needed for business classes. Taking business classes proved somewhat challenging for Rey when he did not pass some of his classes. With that considered, Rey decided to switch majors. Rey decided to switch to Ethnic Studies due to his experiences in the Center of Identity and Inclusion Office. From working in the Center of Identity and Inclusion Office, he developed an interest in learning about his personal history and background. He wanted to dig deeper into his culture and traditions. Ethnic Studies was the perfect major in order to learn about cultures and ethnic histories. Through his studies about various ethnicities, he was able to develop relationships with several professors. He appreciates the relationships with Professor Dennis Green and Dr. Donna Martinez. Rey defines both Professor Green and Dr. Martinez as kind, caring, and motivational. Each professor helped Rey develop a critical mindset when learning about Ethnic Studies. Whether it's applying personal stories to learning concepts or assisting students outside of classes, the Ethnic Studies department wants students to succeed and acquire vital skills to apply in life.
Ethnic Studies has helped Rey pursue other interests that include joining and/or creating clubs and social networking. Rey was a co-founder of CU Dreamers and CCD Dreamers. CU Dreamers and CCD Dreamers are both organizations aimed at "empowering students to overcome and appreciate adversity that is associated with being an undocumented person." These organizations provide leadership and community engagement to students to help them grow professionally and personally. Aside from CU Dreamers and CCD Dreamers, Rey is involved in non-profit work. Rey is developing United Leaders in Higher Education into a non-profit to be a resource for communities. After the recent election, many communities are experiencing hardship, and with United Leaders in Higher Education, it would be a resource for Colorado. Recently, United Leaders in Higher Education held a conference for schools (colleges as well as high schools). Many undocumented students were in attendance to discuss the issues they were facing with new policies in effect for undocumented students. 
Rey has had a unique experience at UCD which aspires him to work in higher education after graduation. After completing his undergraduate career, Rey would like to pursue a master's degree in higher education and student affairs. He would like to work with students. He wants to help students stay or become motivated about achieving their goals and have someone to talk to. Rey would like to be a good resource for students to learn from or simply express feelings. Furthermore, he would like to increase Latino/a representation in higher education. It is important to increase ethnic diversity in all areas of life as it creates relationships and trust between individuals.
Overall, Rey's experience and involvement at UCD and CCD will be impactful for future generations of students. Rey appreciates the opportunities he has had in attending UCD as well as being an Ethnic Studies/Communication major. In the words of Rey, "I am lucky to be here, learning new skills, viewing the world from a different perspective, and gaining new passions". Also, he advises new freshmen that there is no rush in learning. A common pressure students face in college is being on track or graduating in a certain period of time. This pressure leads to unnecessary stress, and as Rey demonstrated the important aspect of college is learning. It's okay to change your major until you find the right path as well it's okay to take breaks. Completing college is not a race but an opportunity to gain knowledge, create connections, help others, and enjoy the experiences you have.
 ___________________________________________________________________________________________________________________________________________________