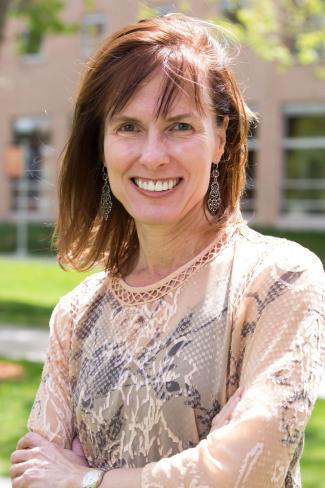 Cathy J. Bradley, Ph.D. • Associate Dean of Research (Colorado School of Public Health) • Professor and Deputy Director of CU Cancer Center
Economics
Office Location:
13001 E. 17th Place, B119
Bldg. 500, Rm N6203L
Aurora, CO 80045
Areas of Expertise:
Health and labor market outcomes, Productivity costs of disease, Health insurance, Influence of employment-contingent health insurance on treatment and labor supply, Socioeconomic healthcare disparities, Healthcare Delivery, Medicaid
Ph.D., Health Policy and Administration (Minor: Economics), University of North Carolina-Chapel Hill, 1994  
M.P.A., Public Administration, University of North Carolina-Chapel Hill, 1986
B.A., Political Science, Old Dominion University, 1983
Cathy J. Bradley, Ph.D., is the Associate Dean for Research in the Colorado School of Public Health and the Deputy Director of the University of Colorado Cancer Center. She holds the Grohne Chair for Cancer Prevention and Control Research. Prior to joining the University of Colorado, she was the founding Chair of the Department of Healthcare Policy and Research, and Associate Director of Cancer Prevention and Control at Virginia Commonwealth University School of Medicine. Dr. Bradley is an internationally recognized expert in health services research and health economics. Her expertise is in labor market outcomes of cancer survivors, health policy, and health disparities. Dr. Bradley is on the editorial board of the Journal of Cancer Survivorship, and is a member of the National Academies of Sciences, Engineering, and Medicine National Cancer Policy Forum.
Selected Publications
Morgan R, Karam S, Bradley CJ. Ethnic disparities in PET/CT utilization at diagnosis of non-small cell lung cancer. J Natl Cancer Instit. In press.
Cox-Martin E, Mellies A, Borges V, Bradley CJ. Chronic pain, health-related quality of life, and employment in working age cancer survivors. J Cancer Surv. In press. 
Bradley CJ, Eguchi M, Perraillon M. Factors associated with utilization of high cost agents in metastatic non-small cell lung cancer. J Natl Cancer Instit. In press. PMID: 31710664.
Warren JL, Benner S, Stevens J, Enewold L, Huang B, Zhao L, Tilahun N, Bradley CJ. Development and evaluation of a process to link cancer patients in the SEER registries to national Medicaid enrollment data. J Natl Cancer Instit. In press.
Cox-Martin E, Basen-Engquist K, Bradley CJ, Blalock J. Changing multiple behaviors in cancer survivors: smoking and exercise. Psyc, Health & Med. PMID: 31630537.
Sabik L, Eom K, Dahman B, Li J, Yao N, VanLonden G, Bradley CJ. The impact of Massachusetts health reform on colorectal and breast cancer stage at diagnosis. Med Care. In press.
7.Sabik L, Vichare A, Dahman B, Bradley CJ Breast and Cervical Cancer Screening Among Medicaid Beneficiaries: The Role of Physician Payment and Managed Care. Am J Manag Care.  In press. PMID 29726303.
8.Bradley CJ. Economic burden associated with cancer caregiving. Semin Oncol Nurs. 2019 Aug;35(4):333-336. doi: 10.1016/j.soncn.2019.06.003. Epub 2019 Jun 20. Review. PMID: 31229344.
Chukmaitov A, Dahman B, Bradley CJ. Outpatient facility volume, facility type, and risk of serious colonoscopy-related adverse events in patients with comorbid conditions: A population-based study. Intnatl J Colorectal Dis. 2019.  doi: 10.1007/s00384-019-03304-3. [Epub ahead of print] PMID: 31093737.
Grub I, Hanson G, Bradley C, McMullen C, Ritzwoller D, Hodge S, Varga A, Banegas M. Colorectal cancer survivors' challenges to returning to work: a qualitative study. Eur J Cancer Care.  2019. PMID 31006931.
Research Design & Proposal Preparation in Health Services Research
Department of Health Systems, Management, and Policy