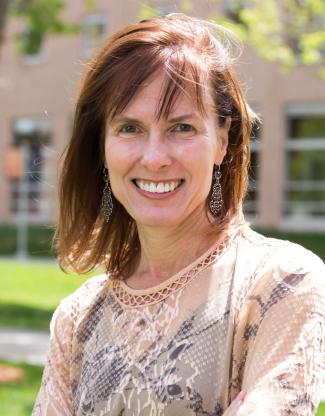 Cathy J. Bradley, Ph.D. • Professor and Dean for the Colorado School of Public Health • Deputy Director, University of Colorado Comprehensive Cancer Center
Economics
Office Location:
13001 E. 17th Place, B119
Bldg. 500, Rm N6203L
Aurora, CO 80045
Areas of Expertise:
Health and labor market outcomes, Productivity costs of disease, Health insurance, Influence of employment-contingent health insurance on treatment and labor supply, Socioeconomic healthcare disparities, Healthcare Delivery, Medicaid
Ph.D., Health Policy and Administration (Minor: Economics), University of North Carolina-Chapel Hill, 1994  
M.P.A., Public Administration, University of North Carolina-Chapel Hill, 1986
B.A., Political Science, Old Dominion University, 1983
Cathy J. Bradley, Ph.D., is the Associate Dean for Research in the Colorado School of Public Health and the Deputy Director of the University of Colorado Cancer Center. She holds the Bunn Chair in Cancer Research. Prior to joining the University of Colorado, she was the founding Chair of the Department of Healthcare Policy and Research, and Associate Director of Cancer Prevention and Control at Virginia Commonwealth University School of Medicine. Dr. Bradley is an internationally recognized expert in health services research and health economics. Her expertise is in labor market outcomes of cancer survivors, health policy, and health disparities. Dr. Bradley is on the editorial board of the Journal of Cancer Survivorship, and is a member of the National Academies of Sciences, Engineering, and Medicine National Cancer Policy Forum.
Selected Publications
Selected Recent Publications
Natvig C, Mikulich-Gilbertson SK, Laudenslager ML, Bradley CJ. Association between employment status change and depression and anxiety in allogeneic stem cell transplant caregivers. J Cancer Surviv. 2021 [published online ahead of print]. doi:10.1007/s11764-021-01099-3
Sabik LM, Eom KY, Dahman B, Li J, van Londen GJ, Bradley CJ. Breast Cancer Treatment Following Health Reform: Evidence From Massachusetts. Med Care Res Rev. 2021 [published online ahead of print]. doi:10.1177/10775587211042532
Varga A, Gruß I, Ritzwoller DP, Bradley CJ, Sterrett AT, Banegas MP. Characterizing employment of colorectal cancer survivors using electronic health records. JAMIA Open. 2021;4(3):ooab061. doi:10.1093/jamiaopen/ooab061
Eom K, van London GJ, Li J, Dahman B, Bradley CJ, Sabik L. Changes in initiation of adjuvant endocrine therapy for breast cancer after state health reform. BMC Cancer. 2021;21(1):487. doi:10.1186/s12885-021-08149-0
Banegas M, Gruss I, Bradley CJ. Colorectal cancer and return to work: a pilot study of recruiting cancer survivors and their employers. Perm J. 2021;25:10.7812/TPP/20.198. doi:10.7812/TPP/20.198
Sakamoto MR, Eguchi M, Azelby CM, Diamond JR, Fisher CM, Borges VF, Bradley CJ, Kabos P. New Persistent Opioid and Benzodiazepine Use After Curative-Intent Treatment in Patients With Breast Cancer. J Natl Compr Canc Netw. 2021;19(1):29-38. doi:10.6004/jnccn.2020.7612
Bradley CJ, Stevens JL, Enewold L, Warren JL. Stage and mortality of low-income patients with cancer: Evidence from SEER-Medicaid. Cancer. 2021;127(2):229-238. doi:10.1002/cncr.33207
Bradley CJ, Yabroff KR, Zafar SY, Shih YT. Time to add screening for financial hardship as a quality measure? CA Cancer J Clin. 2021;71(2):100-106. doi:10.3322/caac.21653
Halpern MT, Shih YT, Yabroff KR, Ekwueme DU, Bradley CJ, Davidoff AJ, Sabik LM, Lipscomb J. A framework for cancer health economics research. Cancer. 2021;127(7):994-996. doi:10.1002/cncr.33343
Bradley CJ, Saunders HG. Impact of cash incentives for low-income individuals to seek a primary care visit on mental health outcomes: Evidence from a randomized controlled trial. Soc Sci Med. 2020;265:113515. doi:10.1016/j.socscimed.2020.113515
Research Design & Proposal Preparation in Health Services Research
Department of Health Systems, Management, and Policy