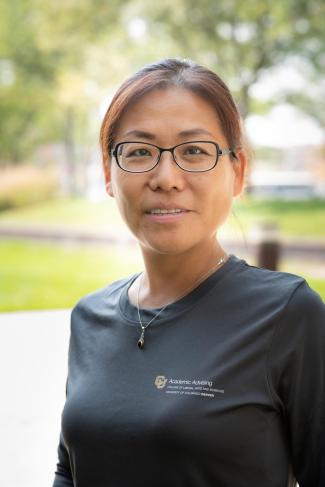 Academic Advisor (ICB-China)
Hong Ai Bai, also known as Leslie Bai, started teaching at English Department of Long Island University in NY and from 2011 she transferred to administration as Director of Academic Support at Office of International Student Service and Associate Director of Academic Advising, LIU, before moving to University of Colorado Denver to be CLAS Academic Advisor at International College Beijing (ICB) campus in August, 2016.  Currently, she mainly provides academic advising service to CLAS students studying on Beijing campus.   
Leslie has a PhD in linguistics and two master's degrees in Applied Linguistics (MA) and Library and Information Science (MLIS). Besides English, she also speaks Chinese, Korean, Japanese, and some French, and her teaching and research interests in multilingual and multi/intercultural communication also support her to better communicate with students from diverse cultural backgrounds, esp. ICB students in their transition to American culture and higher education.  
She enjoys her split time in the metropolitan Beijing of China and natural scenery of Colorado in USA. In her leisure time, she devotes herself to hiking and biking in Colorado and Beijing and working on her English-Chinese poetry translation.