Location: NC1001; Green Row 2, Column 1
Please let Devin Pace know if used to order more chemiluminescent sticks.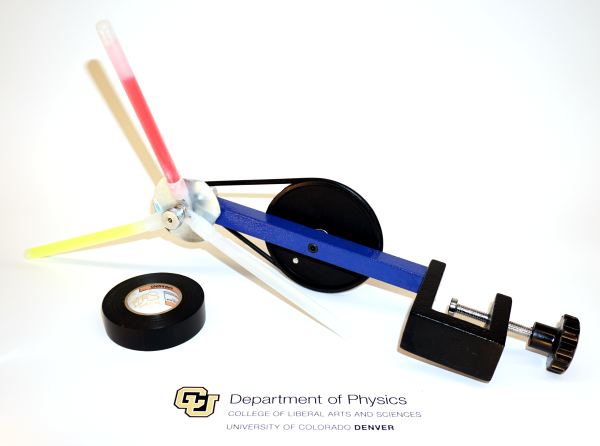 Kit includes Red, Green, and Blue snaplights. Snap lights are activated and turn the crank to produce a wheel of white light. Provided tape and be applied to show different colors.
Supplier: Arbor Scientific
Link: http://www.arborsci.com/rgb-snap-lights-and-spinner.html
Location: NC1001; Yellow Row 1, Column 1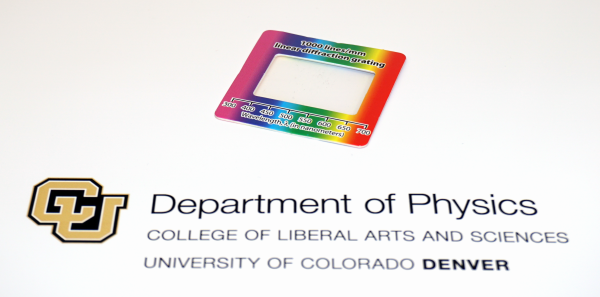 Holographic Diffraction Gratings
From Arbor Scientific:
These Holographic Diffraction Gratings are highly-efficient, embossed Holographic Optical Elements (H.O.E.) and ideal for the direct viewing and analysis of spectra from gas tubes and other light sources. The quality of the spectrum produced is the brightest possible with a minimum of distracting visual noise. Try using these diffraction gratings in conjunction with colored film gels for additive and subtractive color demonstrations! 2" X 2".
Supplier: Arbor Scientific
Link: http://www.arborsci.com/holographic-diffraction-grating-5-pk.html
Location: NC1001; Blue Shelf 2, Bin 4
Helium-Neon 0.8 mW red laser.
From Arbor Scientific:
Our unique 0.8mW HeNe red laser is encased in acrylic so your students can see the laser's hard-sealed plasma tube, power supply and voice transmission circuitry in action. You can even connect the laser to our voice transmission package to send audio signals across the room. 120v 60hz.
Supplier: Arbor Scientific
Location: NC1001; Blue Shelf 1, Bin 3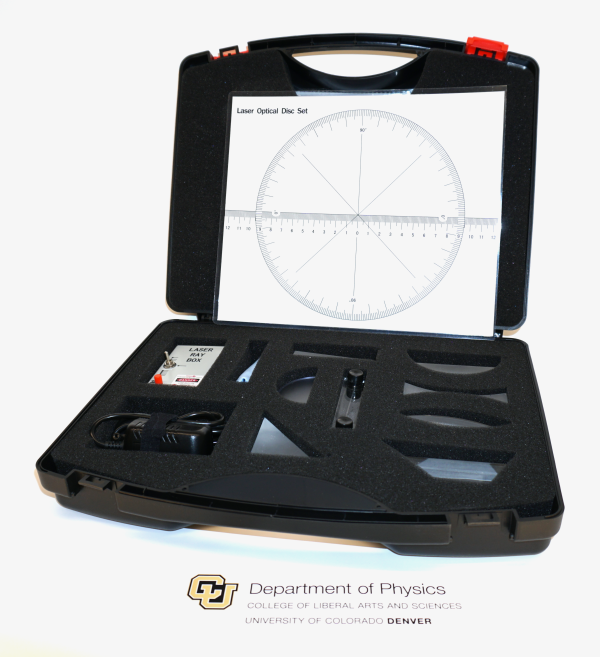 Laser optics set to study light and refraction using 1, 3, or 5 beams. Includes multipe different lens shapes (D-shaped, triangle, convex-convex, flat, etc.) and types (solid and hollow).
From Arbor Scientific:
Complete Optics Set uses 1, 3, or 5 Laser Beams!

Perfect for inquiry investigations of light and refraction. The most complete, economical optics kit you'll find! Look at everything you get: variable laser ray box, 8 different acrylic lenses, activity mat with printed scales and angles, and convenient hard-shell storage case to keep everything organized and ready to use.

Ray box includes power adaptor. 120v 60hz.

This laser ray box is designed for table top experiments and will loose accuracy whey used at greater distances. 
Supplier: Arbor Scientific
Location: NC1001; Blue Shelf 2, Bin 7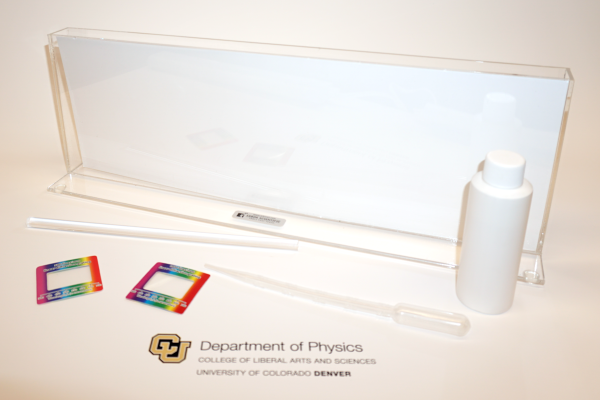 Experiment using agents added to water to make laser light visible. Can insert sugar to show refraction.
From Arbor Scientific:
The Ultimate Student Laser Light workstation!

Designed by California Physics Teacher Dean Baird, this versatile system allows students to see and control light beams. Scattering agent added to water in the plastic tank makes laser beams visible. Students easily control observations involving simple refraction and total internal reflection.

Demonstrate gradual (curving) refraction with sugar!
Split a single laser beam with the diffraction grating.
Show why daytime skies are blue while sunrise and sunset skies are red.
And more, from the included Instructions.

Includes: Laser Viewing Tank 18" x 6" x 1", multi-line diffraction grating, bottle scattering agent, acrylic stirring rod, removable opaque background screen, and instructions. Laser not included.
Supplier: Arbor Scientific
Location: NC1001; Blue Shelf 2, Bin 1
Light box allows students to experiment with colors and color mixing, reflection, and refraction.
From Arbor Scientific:
Everything you need to conduct dozens of optical demos, labs and experiments in one easy-to-use kit!

Performing experiments involving refraction, reflection, color, and color mixing is a breeze with our versatile, but affordable Light Box & Optical Set. The Complete Set features an easy-to-use, virtually unbreakable light box and collimating lens, plus a full set of lenses, acrylic blocks, half-round and parabolic mirrors, slit plates, color cards, and color filters. With just this one kit, you and your students get everything you need to:

Create single or multiple parallel, convergent or divergent beams.
Blend up to three colors on a screen to study color mixing.
Create and test complex light paths from theoretical layouts.
And perform many more light and color experiments.

The included instruction manual is packed with ideas for a broad range of exciting and "illuminating" experiments covering the requirements for practically every grade level. The kit includes a spare 12v, 36-watt bulb and special three-part molded styrene pack for safe, easy storage and transportation of the light box and all accessories. A power supply capable of producing 12 volts at 3 amps is required.

A power supply is required and not included. Our P4-7250 Power Supply is a great value.

Standards

There are many state and national science standards at different levels that can be addressed using the Light Box & Optical Set. Some examples are provided here; however, you should check with your state to find its exact standards.

Light interacts with matter by transmission (including refraction), absorption, or scattering (including refraction). To see an object, light from that object - either emitted by the object or scattered by it- must enter the eye.
Explain how we see colors of objects, including how different media refract, transmit, or absorb light.
Investigate sources of light and how light behaves when it strikes different objects.
Supplier: Arbor Scientific
Link: http://www.arborsci.com/light-box-and-optical-set.html
Location: NC1001; Blue Shelf 1, Bin 2
24" diameter parabolic mirror with stand
Supplier: Arobor Scientific
Location: NC1001; Green Row 1, Column 1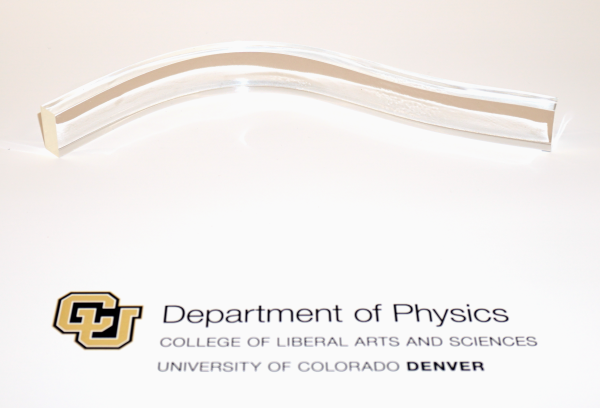 Made from smoked Lucite, light is scattered as it passed though the material, allowing students to see the optical path. Similar to fiber optic cables.
Supplier: Arbor Scientific
Link: http://www.arborsci.com/optical-path-demonstrator.html
Location: NC1001; Yellow Row 2, Bin 1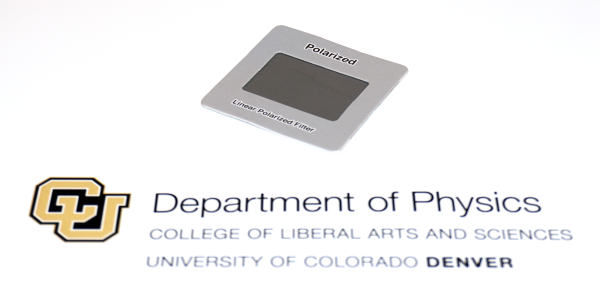 Linear Polarizing Filter in 35 mm slide frame
Supplier: Arbor Scientific
Link: http://www.arborsci.com/slide-mounted-polarizing-filters.html
Location: NC1001; Blue Shelf 1, Bin 4
The Davis Instruments Mark 15 Sextant.
From Davis Instruments:
This model has many great features including seven large sunshades, a 3 mm x 27 mm star scope, and easy-to-read micrometer drum vernier scale that reads to 2/10 of a minute. The Mark 15 has a 7″ (18 cm) frame radius graduated from 120 degrees to -5 degrees and comes with a traditional half-silvered mirror.
Supplier: Davis Instruments (via Amazon)
Link: http://www.amazon.com/Davis-Instruments-26-Sextant-Navigation/dp/B00GHTGC5U/ref=sr_1_10
Manufacturer Link: https://www.davisinstruments.com/product/mark-15-sextant/
Location: NC1001; Blue Shelf 2, Bin 2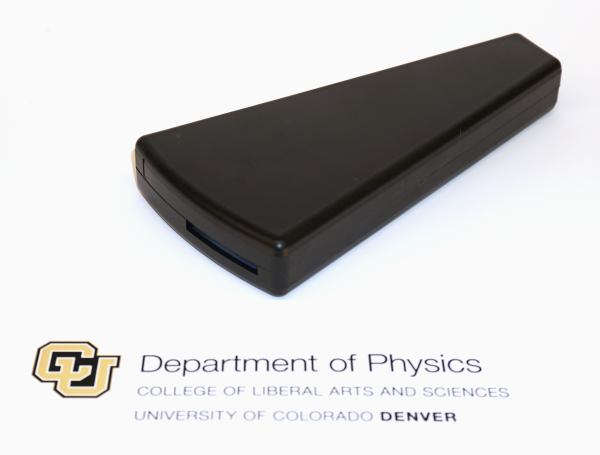 From Arbor Scientific:
This spectroscope is a durable economical tool to see and measure different spectra. Separate light into its component colors. Contrast the differences between fluorescent and incandescent lights. Measure which wavelengths are absorbed by different materials.

Our new Light Source Adaptor and Light Sources make it easier than ever to see bright-line emissions spectra and unveil the atomic origin of light.

Supplied with an excellent set of instructions that reviews light theory and diffraction gratings, it provides suggestions for numerous experiments in light and color.

A built in scale measures light wavelengths from 400nm to 700nm with a precision of +/- 5 nm.
Supplier: Arbor Scientific
Location: NC1001; Brown Floor, Bin 4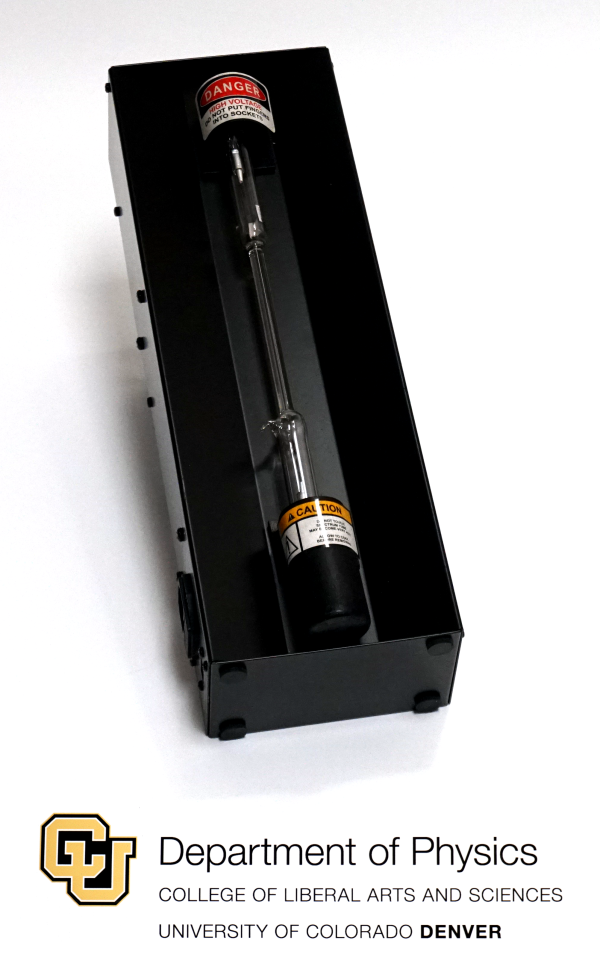 From Arbor Scientific:
This complete Spectrum Analysis Set comes with a power supply and a variety of gas filled spectrum tubes. The specially designed power supply safely runs 14 different gas spectrum tubes containing Air, Oxygen, Argon, Helium, Hydrogen, Iodine, Xenon, Carbon Dioxide, Chlorine, Krypton, Mercury Vapor, Water Vapor, Nitrogen and Neon. Tubes are approximately 26 cm long.

For intermittent use only, not to be used as a lamp source. These are designed to operate 30 seconds ON 30 seconds OFF. Expected life of spectrum tubes will vary depending on the gas they contain. If the tubes are used as recommended and not allowed to overheat, the useful life or time it takes to detect contamination with the usual measuring equipment is very long.

electrical certifications: CSA and CE
Supplier: Arbor Scientific
Link: https://www.arborsci.com/spectrum-analysis-classroom-set/
Location: NC1001; Blue Shelf 2, Bin 3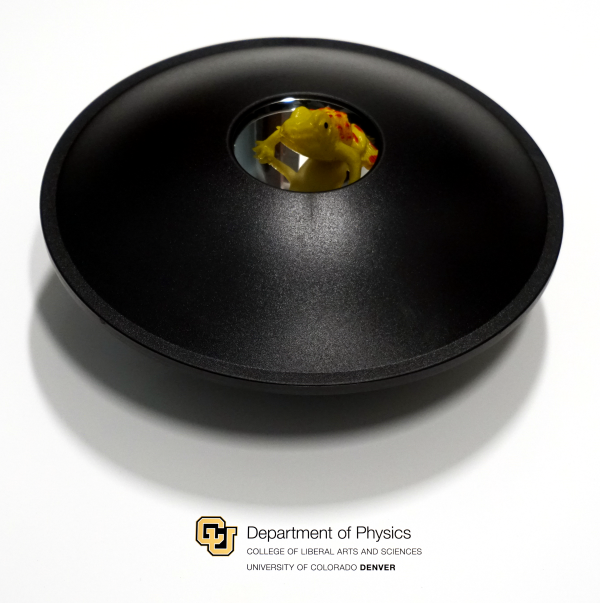 From Arbor Scientific:
Parabolic mirrors create a floating holographic image that looks 100% real, but try to touch it and your fingers go right through! Create a hologram with any small object.

Create a hologram simply open the top half and place a small object in the center of the bottom mirror. Close the top lid and the see the hologram appear right in front of your eyes.
Supplier: Arbor Scientific
Link: https://www.arborsci.com/3d-mirascope-illusion-maker.html