Our Courses
Course #, Name

Start Time

End Time

Date/s of Class begin

Date/s Class Ends

Days of Week

Instructor

Location

Course Format

PSCI 4002 - Topics in Political Science Labor in Film
12:00 PM
4:00 PM
2/13/21
2/14/21
Saturday & Sunday
Wills
Zoom
Remote
2/27/21
2/28/21
3/6/21
3/7/21
3/20/21
3/21/21
PSCI 4002 - Topics in Political Science Labor Trade Unions & Global Economy
6:00 PM
8:00 PM
1/19/21
4/1/21
Tues/Thurs
Drexler
Zoom
Remote
PSCI 4009 - Politics of Budgetary Process  
6:00 PM
8:00 PM
1/19/21
5/15/21
Monday
Ray
Zoom
Remote
PSCI 4914 - Community Organizing & Development  
9:00 AM
5:00 PM
3/14/21
3/14/21
Sunday
Male
Zoom
Hybrid Online/Classroom
4/11/21
4/11/21
 
5/2/21
5/2/21
 
3/13/21
3/13/21
Saturday
 
CU Denver South Room 205
4/10/21
4/10/21
 
5/1/21
5/1/21
 
PSCI 5008 - Grad Topics in Poli Science Labor in Film
12:00 PM
4:00 PM
2/13/21
2/14/21
Saturday & Sunday
Wills
Zoom
Remote
2/27/21
2/28/21
3/6/21
3/7/21
3/20/21
3/21/21
PSCI 5009 - Politics Budgetary Process  
6:00 PM
8:00 PM
1/19/21
5/15/21
Monday
Ray
Zoom
Remote
PSCI 5550 - Labor, Trade Union, & Global Economy  
6:00 PM
8:00 PM
1/19/21
4/1/21
Tues/Thurs
Drexler
Zoom
Remote
PSCI 5914 - Community Organizing & Development  
9:00 AM
5:00 PM
3/14/21
3/14/21
Sunday
Male
Zoom
Hybrid Online/Classroom
4/11/21
4/11/21
5/2/21
5/2/21
3/13/21
3/13/21
Saturday
CU Denver South Room 205
4/10/21
4/10/21
5/1/21
5/1/21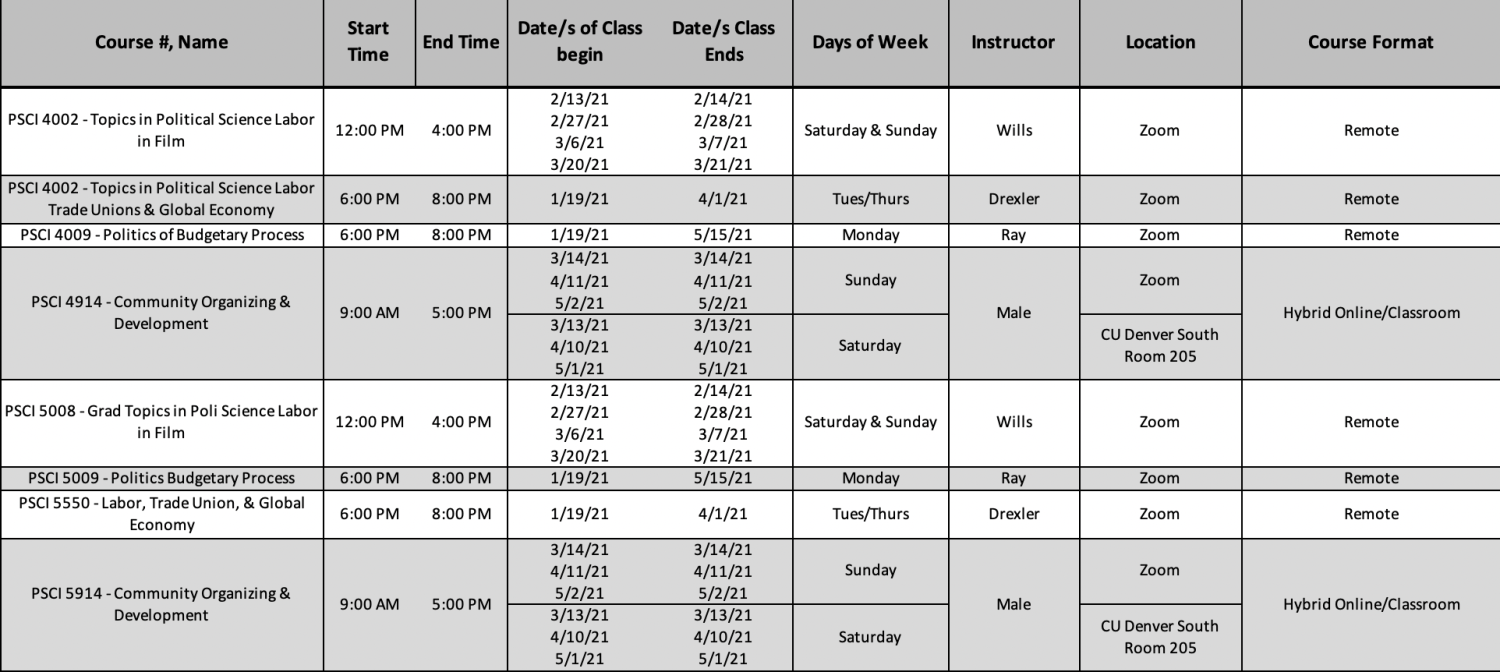 PSCI 4002/5424 - Social Economy and Sustainable Development
Instructor: Minsun Ji
Classes will be held over 3 weekends (Jan 25/26, Feb.8/9, Feb. 22/23)
PSCI 4002/5548 - Collective Bargaining and Employment Law
Instructor: Ericka Wills
Classes will be held over 3 weekends (Feb. 15/16, Feb. 29/March 1, March 14/15)
PSCI 4084/5084 - Local Government and Administration
Instructor: Karen Garrity, Nederland Town Manager
Classes will be held over 3 weekends (March 7/8, March 21/22, April 1819)
PSCI 4075/5075 - Gentrification and Social Equity
Instructor: Dr. Tony Robinson
Classes will be held over 3 weekends (April 4/5, April 25/26, May 9/10) 
PSCI 5914/4914 - Community Organizing and Community Development
PSCI 5054/4002 - The Legislative Process
PSCI 5008/4002 - Special Topic: Leadership and Organizational Development
PSCI 5468 - Reserach Methods in Political Science
PSCI 5550/4002 - Labor, Trade Unions and the Global Economy
PSCI 5008/4002 - Special Topic: Planning and Development: Zoning, Local Government and Affordable Housing
Instructor: Nina P. Williams
Classes will be held over 3 weekends (June 8-9, June 29-30, July 20-21) from 9am-4pm at the CU South Denver campus
Description: 
Navigating development and housing projects - advocating for them, stopping them and building them responsibly.  Emphasis on municipal governments, zoning, land use, diverse stakeholders and issues management.
PSCI 5008/4002 - Special Topic: Struggling with (Non)violence
Instructor: Julie Todd
This is a fully online class that will take place between June 10 - August 3
Description: 
Engaging theories and practices of (non)violence that have influenced progressive social movements in the United States from the 20th century until today, students will consider how social change happens (or does not) related to the struggle between ideas and tactics of both violence and (non)violence. To examine the dichotomy violence-(non)violence implies 1) questioning the dichotomy itself and clarifying definitions/usage of the terms violence and (non)violence; 2) understanding the structures of power and violence within which violence-(non)violence as social change strategies operate; 3) comparing "strategic" versus "principled" approaches to (non)violence. 
How to Register for New Directions Courses:
Visit: https://passport.ucdenver.edu/login.php and sign-in using your University username and password.

Click UCD Access to proceed to the student portal.

Click "Register" to view the drop-down menu. Then click "Register for Classes."

Select the registration term and continue to class search.

Under the "Advanced Search" heading, click "Search."

Verify that you have selected the correct registration term, and proceed to course search by clicking "Extended Studies" under the "Campus" heading and "Political Science" under the "Subject" section. Hit "Search" at the bottom of the screen to browse the course list.

Select your course by clicking on the arrow near the class name. Then hit "Select."

Your New Directions selected course(s) will now appear in your Shopping Cart and will be available when you are ready to enroll.

If you encounter any difficulties during the registration process, call the Registrar's Office at 303-724-8059. Please note that unpaid University balances may impact the ability to register. All billing questions should be directed to the Bursar's Office at 303-315-1800.
 
Forms: