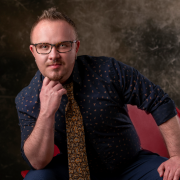 Adison holds an Associates degree in Psychology and a Bachelors degree in Feminist and Gender Studies and Political Science from Colorado College, where hy focused on queer anti-racism. These topics drew hym to GIS through a critical geography lens and help drive hys commitment to justice, equity, inclusion, and diversity in FAST. Adison is prepared to answer questions for Esri ArcMap and ArcPro, including geospatial assignments in GIS for Planners, Planning Studio, Planning Methods, and Planning Development. Adison will  be creating GIS video tutorials to assist student learning this fall.
---
Affordable Housing and Hospitality:
Geospatial Suitability Analysis for a Colorado Urban Camp Concept

The American Institute of Certified Planners Code of Ethics and Professional Conduct stipulates that planners "shall seek social justice by working to expand choice and opportunity for all persons, recognizing a special responsibility to plan for the needs of the disadvantaged and to promote racial and economic integration," and that planners "shall urge the alteration of policies, institutions, and decisions that oppose such needs" (AICP, 2016). Today, numerous laws infringe on poor people's ability to exist in public space or obtain basic needs such as housing, employment, and equal protection under the law. Some of these laws include Urban Camping Bans (Colorado Public Radio, 2019) and Sit-and-Lie Ordinances (The Gazette, 2016). "Homeless Bill of Rights Campaigns stand on the shoulders of social justice campaigns to alleviate poverty and homelessness while protecting homeless and poor people from unjust laws and ensuring all people's right to exist in public spaces" (Western Regional Advocacy Project, 2016). This paper rejects and responds to laws that: discriminate based on housing status; criminalize acts of survival like sleeping, sitting, and giving or receiving food in public spaces; and/or prevent homeless people's access to shelter, transit, restrooms, jobs, privacy, voting, or other civic participation and quality of life indicators (Denver Homeless Out Loud, 2019).
To download and view the complete project, click here.
---
Feminist Geography: Getting Started in GIS Instructional Video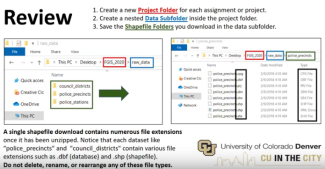 This video demonstrates how to formulate a focus question for your project or discipline using public information sources online.
Click here to watch the tutorial
---
ArcGIS Pro Tutorials
Tutorial 1: How to Find Open Data and Connect to it in ArcGIS Pro
Tutorial 2: Spatial Reference and Projection in ArcGIS Pro
Tutorial 3: Intro to Metadata and Attribute Tables
Tutorial 4: Visualize and Present Data Using Symbology and Layouts