October 2018
Monthly Science Snippet
---
Science Fair 101

We partnered with ScienceFairFun.org to complete a two-part series entitled: "SCIENCE FAIR 101: How to organize a school science fair and prepare winning projects to compete at a Regional Fair."
This FREE webinar's PowerPoint can be found on the DMRESF website.
A short description of the presentation: Currently, there is a focus on increasing the number of people entering STEM (Science, Technology, Engineering, and Mathematics) careers, and this education starts in the classroom. One way to encourage STEM interest is to offer a science and engineering fair competition at the school and regional levels. These fairs can provide vast benefits to students, including performing project-based learning, analyzing scientific findings, and improving their communication and presentation skills. This webinar highlights: 
- the value of science fairs for students
- general information about regional/state/national/international fairs
- how to organize a school fair and how to prepare for a regional fair
- available resources
The follow-up FREE webinar will be November 7th from 5-6PM (Mountain Time). All are welcome to attend, please register here: 
https://attendee.gotowebinar.com/register/7699505390099710988
---
Science Fair on the Big Screen

Hailed by critics as "immensely likeable," "brilliant and quirky" and an "ode to the teenage science geeks on who our future depends," SCIENCE FAIR follows nine high school students from around the globe as they navigate rivalries, setbacks and, of course, hormones, on their journey to compete at The International Science and Engineering Fair. Watch the trailer here.
 
In honor of National Education Week, National Geographic is inviting teachers and students nationwide to watch their inspiring new documentary SCIENCE FAIR in classrooms this November! The film offers a front row seat to the victories, defeats, and motivations of an incredible group of young women and men who are on a path to change their lives, and the world, through science. If you're interested in participating in the screening tour, please fill out this form to receive free DVDs and educational materials: bit.ly/ScienceFairScreening.
For any questions, please reach out to sciencefair@picturemotion.com
---
New to science fair? We got you covered!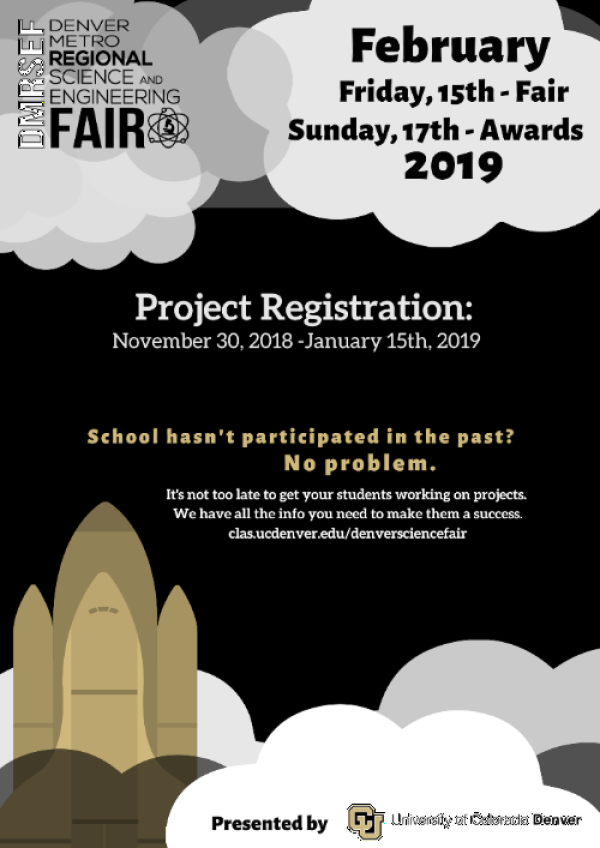 Please reach out to us to schedule a presentation at your school for your students, parents, and teachers! Just email us:
denversciencefair@ucdenver.edu
---
Judge and Volunteer Registration Now Open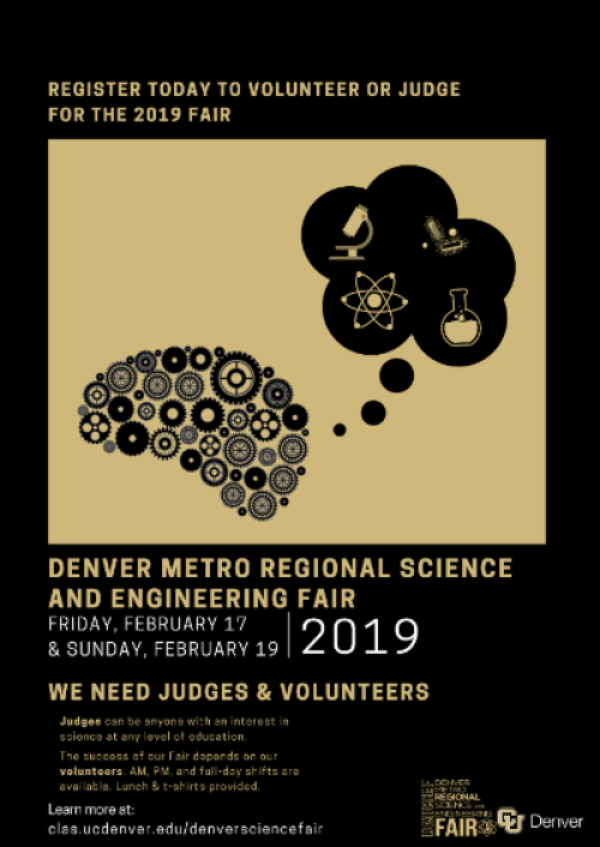 We are excited to announce that the sign up for all judges and volunteers is love now on our website. If you or anyone you know is interested please visit:
clas.ucdenver.edu/denversciencefair/judges  for Judges
Or
clas.ucdenver.edu/denversciencefair/volunteers  for other volunteer opportunities
 
---
Mock Science Fair Project Continued
To help students, teachers, and parents complete ISEF Forms correctly, the DMRSEF has developed a mock science fair project. Click the button above to learn how to properly complete Form 1A.
All forms can be viewed and downloaded from our website: 
https://clas.ucdenver.edu/denversciencefair/forms-and-rules
Please check our website regularly, as we are in the process of making videos to teach you how to properly complete forms.