The annual Denver Metro Regional Science and Engineering Fair (DMRSEF) Kickoff will be held at the University of Colorado Denver (Downtown Campus) on September 7, 2018, from 4:30 - 8:30 p.m. Teachers, principals, students, and parents are invited to learn about the DMRSEF, changes in the rules, and to network during dinner. This year we have invited speakers to share their experiences with science fair, and we will tour the new space where the 2018-2019 DMRSEF will be held. Registration will open in August.
We look forward to seeing you there!
---
Updated ISEF Forms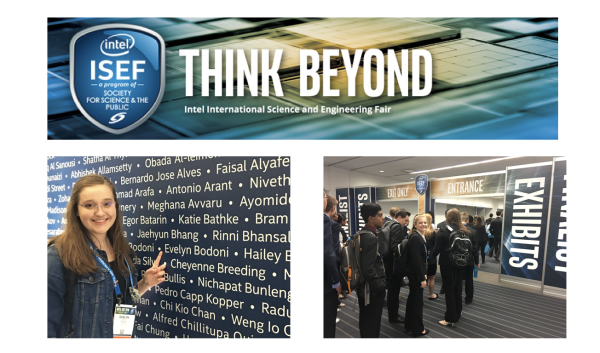 As an affiliate fair of the International Science and Engineering Fair (ISEF), student researchers are required to use ISEF approved forms for competition in the DMRSEF. Please use the links below to access the current International Rules & Guidelines.
The International Rules & Guidelines include the forms necessary to document adherence to the rules. These forms constitute written documentation of what will occur, or in some cases, has already occurred, in a research project. They are designed to provide the information that is needed to review the project to ensure compliance with the Intel ISEF rules and with laws and regulations that apply to the project.
The forms should be filled out and signed before any research takes place. (Only Forms 1C, 5B, 7, and the abstract are done after the research.) The dates of the signatures reflect when the approval or consent is given.
---
DMRSEF Mock Science Project
To help students, teachers, and parenets complete ISEF forms correctly, the DMRSEF has developed a mock science fair project. Follow our steps to help you start your project!
Research a topic that interests you. In our example, Jane Smith is interested in decreasing high blood pressure.
Find a mentor or expert in the area. If required for your experiment, this would be a Qualified Scientist. Form 2 will need to be completed.
Ask a testable question and develop a hypothesis.
Write a Research Plan that includes: Rationale, Research Question/Hypothesis, Procedures, Materials/Supplies, Risk & Safety, Data Analysis, and Bibliography. See our example below.
---
TITLE:  What Mammal Best Decreases Blood Pressure?
   
BACKGROUND/RATIONALE: Biomedical research has shown that uncontrolled high blood pressure can lead to stroke in humans. This may damage the brain's blood vessels making them to become narrow and weak. High blood pressure is associated with causing the formation of blood clots. Once a blood clot is released it may travel to the arteries that lead to the brain and get stuck in a small arteriole. This clot will block the blood flow to that region of the brain and cause a stroke. Current treatments for uncontrolled high blood pressure is to take different medications that affect the cardiovascular system. My research, however, focuses on providing other ways to reduce blood pressure by decreasing stress. I will enroll 50 people into my research project and record their blood pressure before and after petting mammals.
 
RESEARCH QUESTION and HYPOTHESIS: I am asking the question, "What type of mammal best reduces blood pressure?" I am using mammals for this experiment because in my previous year's science project, I had participants pet different classes of animals to reduce blood pressure and found that mammals had the largest effect. This year, I am focusing on the type of species within mammals that best reduce blood pressure.
 
Because cats tend to choose when they want to be petted and most people are afraid of rats, I hypothesize that dogs reduce blood pressure better than cats and rats because they are 'man's best friend' and they like to be petted.
 
PROCEDURES: I will use the following materials/supplies and procedures to complete my project:
Materials/Supplies:
50 people (10 people/group):

Group A: 20-29 years old 
Group B: 30-39 years old 
Group C: 40-49 years old 
Group D: 50-59 years old 
Group E: 60-69 years old 

3 enclosed rooms 10' x 10' each, chairs, blankets, pillows for comfort 
15 Cages for the animals (for transport) 
5 Female Cats (age 5 years old) 
5 Female Dogs (age 5 years old) 
5 Female Rats (age 1 year old) 
Blood pressure monitor 
Timer 
First Aid Kit 
Paper towels 
Disinfectant 
Garbage bag 
Purell or Soap and Water 
Paper and pencil to collect data 
Calculator
Detailed procedures for this experiment: 
Meet with the Dumb Friends League to identify the animals to use in this experiment as well as the rooms used in the experiment.
Recruit participants in the study. Will ask people visiting the Dumb Friends League as they are already there. Assign an Participant Number and record the person's age and sex.
Take the person's blood pressure before petting animals and record. 
For 15 min each, a person will sit in a room full of cats and pet them. 
If an animal makes a mess, clean it up with disinfectant and paper towels. Throw the waste in a double-bagged trash can.
Take the person's blood pressure after petting animals and record. 
Have the person move to a new room and wash their hands or use Purell. 
Repeat steps 3-7, but instead have them pet rats. 
Repeat steps 3-7, but instead have them pet dogs. 
Analyze data by calculating blood pressure averages and standard error of the means.
Risk and Safety (what goes on Form 3 and required for all projects): Possible allergy to cats, dogs, and rats; possible animal bite; blood pressure is too high; animal waste; allergy to Purell. Wash hands after petting; animals will be friendly; clean up waste; have a first aid kit/nurse on site.
 
Purell MSDS: http://chs.rcsnc.org/UserFiles/Servers/Server_4734986/File/Ingle%20Kim/%20purell%20pdf.pdf
 
Blood Pressure Monitor instructions:
https://omronhealthcare.com/wp-content/uploads/bp785_im_eng_09012010.pdf
 
Animal bites: https://kidshealth.org/en/parents/animal-bites-sheet.html
 
Data Analysis: I will average blood pressures before and after petting each species of animals and group the data by age and sex if appropriate. I will calculate the standard error of means and show that on the graphs.     
          
BIBLIOGRAPHY: 
ASPCA. (2018). "Cat Care." ASPCA, www.aspca.org/pet-care/cat-care. Retrieved 25 June 2018.
 
ASPCA. (2018). "General Dog Care." ASPCA, www.aspca.org/pet-care/dog-care/general-dog-care. Retrieved 25 June 2018.
 
Mayo Clinic Staff. (2018). Blood pressure chart: What your reading means. https://www.mayoclinic.org/diseases-conditions/high-blood-pressure/in-depth/blood-pressure/art-20050982. Retrieved 25 June 2018.
 
Qureshi AI, Memon MZ, Vazquez G, and Suri MFK. (2009). Cat ownership and the Risk of Fatal Cardiovascular Diseases. Results from the Second National Health and Nutrition Examination Study Mortality Follow-up Study. J Vasc Interv Neurol. 2(1): 132–135.
 
Vormbrock JK, and Grossberg JM. (1988). Cardiovascular effects of human-pet dog interactions. J Behav Med. 11(5):509-17.