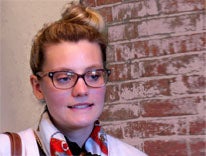 GISA (Gender Issues, Scholarship, and Action) is the official student group of the Women's and Gender Studies Program. For information on how to join see below.
The Experiential Learning Center can help you find internships relevant to WGST.
---
Instructions On How To Get An OrgSync Account To Access GISA (Gender Issues, Scholarship, and Action) News and Events
1) Go to OrgSync
2) Click on "Sign-up" button at top right of the screen.
3) Choose your Community, which is "University of Colorado Denver."
4) The next screen will ask you to create your account. Put in Name (first and last), e-mail, and password.
5) The next screen will bring you to a page that will ask you to fill out your user profile.
6) Once you've created your user profile, click on the link at the top of the screen that says "Join an Org." This will lead you to an A-Z listing. Enter GISA and click on the link that comes up below.
7) Once you click on that link, look for the GREEN box that says "Join Now." Click the link to join GISA!!
---
Feel free to spread the word to your friends. You can also like us on Facebook:  Facebook