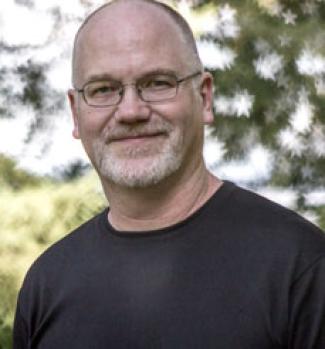 Chair, Professor
Office: North Classroom 3123B
Michael "Bodhi" Rogers is a Professor of Physics and Chair of the Physics Department at CU Denver. Along with being a Ph.D. physicist he is also a registered professional archaeologist. Bodhi's research focuses on geophysical archaeology approaches such as ground-penetrating radar and magnetometry to map buried features of interest at archaeology sites. His most recent interests are in digital preservation of historic sites and artifacts using 3D Laser Scanning with a focus on castles in Ireland. He received undergraduate degrees in mathematics and physics from the State University of New York at Geneseo. His graduate degrees in archaeology and physics are from Oregon State University. Before joining the CU Denver faculty Bodhi was a professor in the Department of Physics and Astronomy at Ithaca College in Ithaca, New York for 16 years. I've been a photograph my entire life and you can see some of my photographs on my Flickr site.
Research
Architecture and Artifact Preservation and Public Accessibility:  Undergraduate students and I are using state-of-the-art 3D laser scanning and printing to digitally preserve historic houses and artifacts. We've digitally preserved at a resolution of readings every 5 mm the President Lincoln's Cottage in Washington D.C., Old Fort Johnson National Historic Landmark in Fort Johnson NY, Grant Cottage, Seward House, Philipse Manor Hall, and Trim Castle (Ireland).
Non-Invasive Imaging of Archaeology Sites: My research examines methods of increasing the accuracy and efficiency of ground-based remote sensing (GBRS). I am interested in all types of GBRS methods, but my current research focus is on magnetometry and ground-penetrating radar. My research is often applied to archaeology projects and to helping solve environmental problems. I'm currently interested in examining how people interacted with each other and their environment on a landscape scale. Archaeogeophysical survey methods can cover approximately 2 acres each day while taking readings every 5 cm in one direction and every 25 cm in the other direction. 
Education Research: My research examines how curricular reform can lead to improved student achievement of learning outcomes and improved sense of belonging.