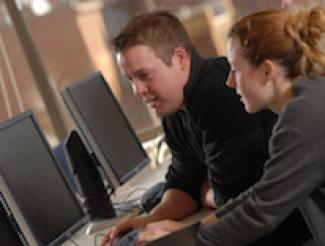 Restrictions on the Pass-Fail Option
Students may not use the Pass/Fail option in 1010, 1020, or 2110 in any language. The course grade in any 1010 or 1020 class must be must be a "C" (2.0) or higher to continue on to the next course level. To satisfy the the CLAS language requirement, the 1020 course grade must be a "C" (2.0) or higher.
Grading Scale
The faculty of the Department of Modern Languages uses the following grading scale for determining letter grade distinctions in all courses and sections:
A= 90-100%
B= 80-89%
C= 70-79%
D= 60-69%
F= 59% or lower
The Department of Modern Languages (DML) adheres to the University Grading System and Policies as published in the UC Denver Catalog. This includes the recognition that instructors may, at their own discretion or as required by DML language coordinators, assign grades of plus or minus to students' semester grades.
Grades with plus or minus carry the equivalent quality points (GPA) following the system as outlined in the university's Academic Policies and Regulations.
Students having questions about the division of each letter grade into plus or minus grades should consult the course syllabus or contact the individual instructor.