For many students and faculty, schoolwork has changed in ways many could have never imagined. With the spread of COVID-19, the university made the decision to close campus and transition to remote learning on March 16, 2020. Through this all, both students and faculty have shown an amazing amount of resiliency and dedication not only to their learning and schoolwork, but to one another and the overall CU Denver community. The same testament can be said for the International College of Beijing which is a joint education program between the University of Colorado, Denver and the China Agricultural University (CAU) in Beijing, People's Republic of China.
International College of Beijing (ICB) courses are held on the China Agricultural University campus in Beijing and are taught in English by CU Denver faculty. In the ICB program, students have the option to earn a Bachelor of Arts degree from CU Denver with a major in either Communications or Economics and can minor in History if they so choose. In light of the global pandemic CU Denver history faculty member Dr. Jason Hostutler, who has taught at ICB for four years, has had to make large adjustments to the courses he teaches at ICB.
During a normal semester, Dr. Hostutler teaches courses that cover U.S. History, 19th Century Europe, and Modern China/Japan. Dr. Hostutler shared that his students tend to be very loyal and supportive of all their teachers and tend to be very hardworking and interested as scholars in the course material. For Dr. Hostutler it isn't uncommon to find his students lining the hallway, sitting on their backpacks, awaiting his arrival to discuss assignments or class projects. He shares, "There is a high demand for history classes, so I typically find myself offering new classes, which also means new class preparations for me.  There are some great ICB students who take every history class available, so I try to schedule different classes to meet their interests and needs.  My semesters tend keep me busy with teaching, class preparation, and office hours.  But it's also rewarding for me as an educator because the ICB students truly appreciate the care and effort."
All of Dr. Hostutler's students are ESL students and he highlights the change in the method and practice of his teaching since teaching at ICB. Because complicated terminology can be a challenge, Dr. Hostutler has slowed down the pace of class and takes time to thoroughly explain and analyze concepts. With this method, his Chinese students tend to really enjoy open ended discussions and critical thinking questions. According to Professor Hostutler, many students appreciate the opportunity to formulate and express their own opinions as individuals.
However, like many around the world, COVID-19 has completely upended Dr. Hostutler's life. After the winter term ended in January, Dr. Hostutler was traveling in the Philippines when the spread of the virus began making global news. Toward the end of the winter holiday, Dr. Hostutler had planned a two-week trip back to the U.S. to reconnect with family before the start of the new term. Stopping in Beijing first and then heading to the United States, Professor Hostutler said: "Beijing was eerily quiet and the streets were almost totally void of traffic -- it was like something out of a movie.  Definitely not the bustling city of people and neon lights that I've come to know.  China's quarantine policies started getting seriously strict soon after I arrived in the USA, so I was glad to be here in February.  And by late February I watched anxiously as the virus spread globally through Korea, Japan, Italy, and finally here in the USA. I became even more concerned when countries (including China) closed their borders.  So, a two-week visit has now become over a two month stay with no end in sight."
While we are all now practicing remote learning or teaching, Dr. Hostutler faces the challenge of very distant teaching for his students back in Beijing, while he is located in West Virginia. According to Dr. Hostutler, his students have adjusted well to Canvas and online learning, but one particular challenge involves China's internet firewall. While Canvas works in China, the firewall slows it down considerably which causes frustration for the students. Many students welcomed the start of the semester in late February, as they had already been quarantined for some time, and welcomed the schoolwork to pass the time. Dr. Hostutler has tried to keep class engaging with interesting readings and class discussions and tries to bridge the gap of online learning with short videos and recorded announcements, which help make distant education more personal.  
The partnership between the University of Colorado, Denver and the China Agricultural University with the ICB program is a unique opportunity for students in both schools to experience global learning. The History Department looks forward to the time when all faculty and students can safely be reunited.
Springtime on China Agricultural University's campus.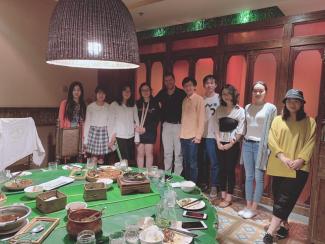 Professor Hostutler and Spring '19 History minors celebrating graduation.
Image taken by Dr. Hostutler of the Great Wall of China, which is about a 45 minute drive from CAU campus.