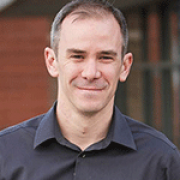 It is with great excitement that I write to you—our alumni and friends—from the halls of the History Department. In January of this year, I took on the role of Department Chair. Previously, I served as History's Undergraduate Advisor. My research and teaching focus on urban and modern US history, and I am currently writing a book on liberalism and policing in Philadelphia and Houston during the 1970s, 80s, and 90s. My 2014 book—The Streets of San Francisco: Policing and the Creation of a Cosmopolitan Liberal Politics (The University of Chicago Press)—explored similar issues during the 1950s and 60s.
This has been a banner year for the department as we've experienced both student and faculty success. A group of smart and motivated students have maintained an active Phi Alpha Theta club (The National History Honors Society) through the year, and other History students have been presenting their historical research at local conferences, such as the Saving Places Conference, the Queer History Conference, and CU Denver's Research and Creative Activities Symposium. Meanwhile, our faculty have been achieving all manner of success. Greg Whitesides published Science and American Foreign Relations Since World War II with Cambridge University Press. Bill Wagner and Ryan Crewe each won teaching awards. Finally, Professor Emeritus Pam Laird's book Advertising Progress: American Business and the Rise of Consumer Marketing (1998) was selected by Johns Hopkins University Press as one of the press's 200 best out-of-print scholarly books. As a result, the Press will be re-releasing a new digital edition of Pam's monograph.These accomplishments are described further in the articles below.
As a collective, our department spent the year on an aggressive hiring campaign to fill open staff and faculty lines. We will be bringing Leigh Campbell-Hale on board to serve as our department's new CU Succeed Liaison. In the Spring semester, we were thrilled to hire Pete Kopp and Rachel Gross as professors in Public History. Pete comes to us from New Mexico State University, and his teaching concentrates on agricultural and environmental history. His book— Hoptopia: A World of Agriculture and Beer in Oregon's Willamette Valley (University of California Press)—won the 2017 American Historical Association's Pacific Coast Branch Book Award. Rachel Gross is finishing a postdoctoral fellowship at University of Montana, and she is now revising her dissertation, "From Buckskin to Gore-Tex: Consumption as a Path to Mastery in Twentieth-Century American Wilderness Recreation." That dissertation won the 2018 Herman E. Krooss Prize for Best Dissertation in Business History. Rebecca Hunt and Tom Noel—the professors who built our Public History program from the ground up—are generously remaining with us through the next year in order to help transition these new hires.
In short, there is much to be excited about within the History Department. It is an honor to be surrounded by so much talent, and I am looking forward to seeing what the next year brings.