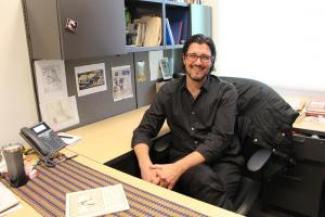 Department Chair • Associate Professor
History
Office: Student Commons Building, Room 3114
Mailing address:
CU Denver History Department
Campus Box 182
P.O. Box 173364
Denver, CO 80217-3364

Physical Location:
1201 Larimer Street
Room 3102
Denver, CO 80204
Fall 2023 Hours: Noon - 1 pm on Tuesdays and by appointment, please email me.
Expertise Areas:
Colonial Latin American History, Pacific world, Early modern global history, Politics and economics of religion in early modern colonization, Transoceanic migrations and exchanges, Cross-cultural interactions
I am a historian of colonial Latin America, the Pacific world, and early modern global history. I am particularly interested in the politics and economics of religion in early modern colonization, transoceanic migrations and exchanges, and cross-cultural interactions.
My book manuscript, The Mexican Mission: Native Survival and Mendicant Enterprise in the Construction of New Spain, 1521-1600, is a social history of the mission enterprise in sixteenth-century Mexico. It traces the ways in which the mission developed in a turbulent post-conquest world amid demographic crises, disruptive social change, and competing local indigenous polities (altepeme). The mission was a transcultural enterprise that both colonized and remade Mesoamerica: while it legitimized Spanish imperial claims over New Spain, it also empowered native communities to rebuild their polities amid the instability of their post-conquest world. I also place this vital colonial story in its global context by tracing its origins in the early Iberian Atlantic, as well as its subsequent impact on New Spain's frontiers in the Pacific world and northern Mexico.
My current project, Sailing for the Chinese Indies: The Hispano-Asian Pacific World, 1565-1821, examines the interactions between colonial Latin America and Asia in the early modern period. Drawing on archival records from the Philippines, Mexico, Spain, and Indonesia, my most recent work has examined ethno-religious conflict in the Hispano-Asian Pacific in various local contexts, including the Sangley quarter (or "Parián") of Manila, the mestizo communities of Maluku, and the globally-connected Inquisition courtroom in Mexico City.