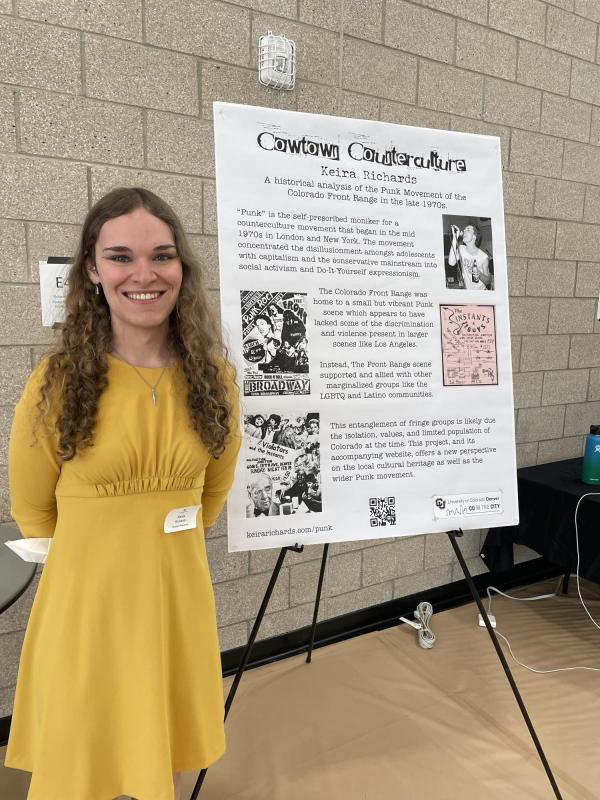 Keira Richards has certainly made a splash in the History Department over the past few years. As the first History Major to pursue the Digital Studies Certificate, Richards has pushed the limits of both the methodology and presentation of her research into underrepresented social and cultural histories. For her Summer of 2021 EURECA independent research project, which required the submission of a research paper, Richards presented her project through a publicly accessible interactive website, titled "Cowtown Counterculture." The project explored the Front Range's punk music scene during the 1970s and 80s, earning her the People's Choice Award at the CU Denver's Summer Symposium for Undergraduate Research.
Richards began her journey in data analysis when she served as a polling analyst for the 2016 election, and she started experimenting with coding while customizing her personal gaming consul. However, she credits a course taught by Dr. Cameron Blevins for teaching her to "view data through a humanities lens and showing [her] the power of digital narratives." In fact, her final project for the course, which analyzed a CDC dataset of the HIV/AIDS cases in Denver from 1981-2002, has been selected to be published in the Spring 2022 Historical Studies Journal. In the meantime, the project can also be accessed through Keira's website.
Aspiring for a career in government, Richards hopes to apply her "skills in creating narratives from diffuse data to help the government adequately address the needs of the public." Richards has begun working with a dataset of historical decisions issued by the Tenth District Federal Court to study how legal language regarding gender has changed over time. "I hope to be part of a new generation of legislators who are more concerned about the wellbeing of their constituents than the concerns of lobbies and parties. Even if I don't get the opportunity to run for office," she says, "I feel government work is the best avenue to make tangible change in our community." The History Department would like to congratulate Keira for the completion of her studies, as well as thank her for her contributions to Colorado's understudied histories!
By Teddy Scott