Last semester students in CTT Prof. Hunt's Interpretation of History in Museums: Exhibits and Education class partnered with the Brighton City Museum to create the exhibit, "Brighton: A New Look at the Past." The course is designed to introduce students to the rudiments of historical interpretation through exhibits and education in a museum setting.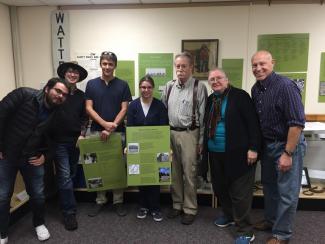 Over the course of the semester, history students worked closely with the Brighton City Museum staff and community members to develop the new exhibit for the museum. The exhibit takes an in-depth look at Brighton's history and explores the physical evolution of Brighton, the city's diverse ethnic and cultural communities, and the city's involvement in different industries, such as farming, oil and gas, and railroads.
Additionally, the students created education programs that catered to the Brighton City Museum and its community's needs. Education programs were created for pre-school, elementary, secondary, and lifelong learners.
The Brighton City Museum is located at 22 S. 4th Ave in the city's historic City Hall. The museum is open Monday-Friday, 10am-4pm. The museum is also open the first Saturday of the month, 10am-4pm, but closed Wednesdays on those weeks.