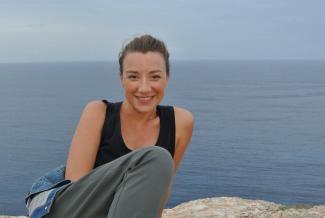 Pamela Kerpius graduated with her Bachelor of Arts in History from CU Denver in 2002.While studying at CU she focused on US Foreign Policy and presidential history. Kerpius went on to receive her MA in Cinema Studies from New York University in 2005 and has taught Film History at the University of Chicago Graham School. Since then, Kerpius decided that she wanted to do something greater with her history and film skills. Kerpius established an oral history project on European migrants called Migrants in the Mediterranean (MotM). Migrants in the Mediterranean is an online humanitarian storytelling publication that documents the journeys of the individual people who have crossed continents, countries, the Sahara desert and the Mediterranean Sea from their countries of origin to the Sicilian island of Lampedusa––the closest European land point from Africa in the Central Mediterranean. The archive was developed
to restore dignity to those who have had it stripped away during travel and trafficking, particularly across Libya where
extraordinary human rights abuses, including slavery and torture, have been endured. It is also an account for the historical record. This journey story archive stands as a document from which we can index the realities of migration for some of the world's most vulnerable individuals. The storytelling continues across mainland Italy after migrants' transfer from Lampedusa, which often the place of first reception, and documents issues of daily life and integration while individuals await asylum hearings and their subsequent results. Essays about the experiences and encounters found during MotM fieldwork are also published regularly as parallel personal accounts of the work.

As the founding writer and correspondent for Migrants of the Mediterranean, Kerpius personally greets arriving migrants in Lampedusa and in cities across the Italian peninsula for one-on-one interviews to historically document the migration flow in the Central Mediterranean. Kerpius said of the connection she perceives between her historical training and her current position that studying history at CU-Denver has always kept her "awake to her own presence in the historical continuum." When she encountered the humanitarian crisis first-hand on a trip to Lampedusa in the Mediterranean, she recognized instantly that she was witnessing and living a huge historical moment. Kerpius says her historical training helped her to understood that she was a participant in this event too. She wanted to affect the story. "Recognizing your own role in the world, in history, allows you to act within it," Kerpius said. Studying history empowered Kerpius to be conscious of her own life and of those around her. Kerpius has been a freelance writer and copywriter since 2005, having written for various culture publications online and in-print, and is a contributing author to the edited collection Violating Time: History, Memory and Nostalgia in Cinema (Contiuum Press, 2008) with her study of the Watergate scandal and its historical adaptation across mediums. For more information about Migrants in the Mediterranean and to read migrant stories, click here. 
Photos are property of Pamela Kerpius 
© Pamela Kerpius