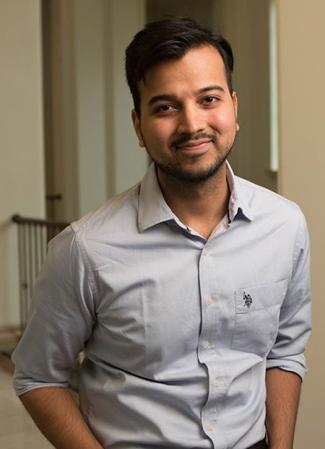 Maulik Jagnani, Ph.D. • Assistant Professor
Economics
Office Location: Lawrence Street Center 470S
Areas of Expertise:
Labor Economics, Environmental Economics, Human Capital and Adaptation
Ph.D., Applied Economics and Management, Cornell University, 2014-2019
Dissertation: "Essays on Human Capital, Environment, and Development"

Recipient of AAEA Outstanding Doctoral Dissertation Award
M.S., Economics, Tufts University, 2010-2012
B.Com., Narsee Monjee College, University of Mumbai, 2006-2009
Dr. Maulik Jagnani is an Assistant Professor in the Department of Economics at the University of Colorado Denver. His research interests are in labor and environmental economics in lower-income countries, with an emphasis on human capital and adaptation.
Selected Publications
*Maulik Jagnani, Chris Barrett, Yanyan Liu, and Liangzhi You "Within-Season Producer Response to Warmer Temperatures: Defensive Investments by Kenyan Farmers" Forthcoming, The Economic Journal.
Maulik Jagnani and Gaurav Khanna "The Effects of Elite Public Colleges on Primary and Secondary Schooling Markets in India" Forthcoming, Journal of Development Economics.
Teevrat Garg, Maulik Jagnani, and Vis Taraz "Temperature and Human Capital in India" Forthcoming, Journal of the Association of Environmental and Resource Economists.
Media: IGC - Ideas for India Blog
Working Papers
Maulik Jagnani "Children's Sleep and Human Capital Production"

Recipient of George F. Warren Award for Graduate Research in Applied Economics, Cornell University

Media: BBC News, The New York Times, Quartz, Marginal Revolution, WIRED, IGC - Ideas for India Blog, Der Standard, World Bank Development Impact Blog, Business Insider, Live Mint, IndiaSpend, Bloomberg, Business Standard, Nada es Gratis, The Times of India, GlobalDev Blog
Jim Berry, Rebecca Dizon-Ross, and Maulik Jagnani "Not Playing Favorites: An Experiment on Parental Fairness Preferences"
Teevrat Garg, Maulik Jagnani, and Hemant Pullabhotla "Agricultural Labor Exits Increase Crop Fires"
* Indicates that order of authorship reflects size of contribution, with largest contribution coming first. Authorship on articles without asterisk is in the alphabetical order of authors' last names.
ECON 4540: Environmental Economics