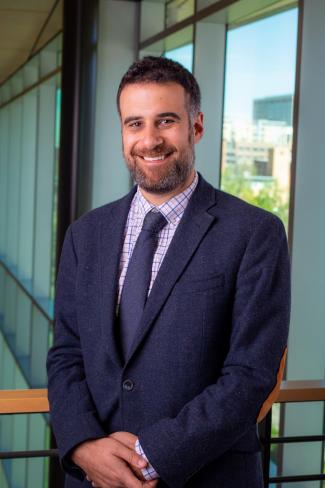 Andrew Friedson, Ph.D • Associate Professor
Economics
Office Location: Lawrence Street Center 470F
Areas of Expertise:
Health Economics, Public Economics, Labor Economics, Urban Economics
PhD, Economics, Syracuse University, 2012
MA, Economics, Syracuse University, 2010
BA, Economics, Mathematics, University of Rochester, 2007
Dr. Friedson is an Associate Professor of Economics at the University of Colorado Denver and holds a secondary appointment in the department of Health Systems Management and Policy at the Colorado School of Public Health. He is a health economist with a background in applied microeconomics (public economics, labor economics, and urban economics) and has research interests in policy surrounding the health insurance and health care markets. Recent research has also focused on social and policy determinants of risky health behaviors such as contagion behaviors and smoking. His research has been published in journals such as the Journal of Public Economics, Journal of Health Economics, Journal of Urban Economics, and Journal of Risk and Uncertainty. Dr. Friedson's work has been covered in outlets such as The New York Times, The Wall Street Journal, Newsweek, and The Economist. He also serves on the editorial review board for INQUIRY.
Selected Publications
Dave, Dhaval, Andrew I. Friedson, Benjamin Hansen and Joseph J. Sabia. 2021. "Association Between State COVID-19 Lottery Announcements and Vaccinations" JAMA Health Forum, Volume 2, Issue 10, e213117.
Friedson, Andrew I., Drew McNichols, Joseph J. Sabia, and Dhaval Dave. 2021. "Shelter-in-Place Orders and Public Health: Evidence from California During the COVID-19 Pandemic" Journal of Policy Analysis and Management, Vol 41, Issue 1, pages 258-283.
Argys, Laura,  Andrew Friedson, M. Melinda Pitts, and D. Sebastian Tello-Trillo. 2020. "Losing Public Health Insurance: TennCare Disenrollment and Personal Financial Distress" Journal of Public Economics, Vol 187, Article 104202. 
Courtemanche, Charles, Andrew Friedson, Andrew P. Koller* and Daniel I. Rees. 2019. "The Affordable Care Act and Ambulance Response Times" Journal of Health Economics, Vol 67, Article 102213.
Undergraduate level: 
ECON 4071: Intermediate Microeconomics
ECON 4318: Urban Economics
ECON 4660: Health Economics
Graduate level: 
ECON 5660: Health Economics
ECON 7661: Health Economics I