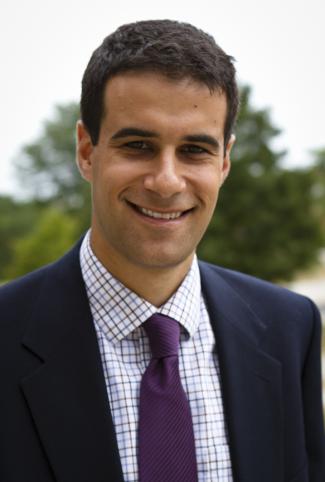 Andrew Friedson, Ph.D • Assistant Professor
Economics
Office Location: Lawrence Street Center 470F
Office Hours: W 10-11:30
Areas of Expertise:
Health Economics, Urban Economics, Economics of Public Policy
Education & Degrees
PhD, Economics, Syracuse University, 2012
MA, Economics, Syracuse University, 2010
BA, Economics, Mathematics, University of Rochester, 2007
Bio & Publications
Dr. Friedson specializes in economics of the healthcare market, with particular focus on health policy and healthcare efficiency.  He has also done work on the housing market.  He is the recipient of the National Tax Association's 2014 Richard Musgrave Prize.
Selected Publications
Friedson, A.I. (2017) "Medical Scribes as an Input in Healthcare Production: Evidence from a Randomized Experiment" American Journal of Health Economics, forthcoming.
Crost, B. and A. Friedson, (2017) "Recessions and Health Revisited: New Findings for Working Age Adults" Economics & Human Biology, forthcoming.
Friedson, A.I. (2017) "Medical Malpractice Damage Caps and Provider Reimbursement" Health Economics, Volume 26, Issue 1, pages 118-135.
Friedson, A.I. and A.F. Marier, (2017) "Mandated Health Insurance and Provider Reimbursement via Private Insurance: Evidence from the Massachusetts Health Reform" Health Services Research & Managerial Epidemiology, Volume 4, pages 1-6.
Friedson, A.I. and J. Li, (2015) "The Impact of Agglomeration Economies on Hospital Input Prices" Health Economics Review, Vol 5, Issue 38, pages 1-15.
Cortes, K.E. and A.I. Friedson, (2014) "Ranking Up by Moving Out: The Effect of the Texas Top 10% Plan on Property Values" National Tax Journal, Vol 67, Issue 1, pages 51-76.
Friedson, A.I. and A.N. Bogin, (2013) "Winning Pays: High School Football Championships and Property Values" Journal of Housing Economics, Vol 22, Issue 1, pages 54-61.
Friedson, A.I. and T.J. Kniesner, (2012) "Losers and Losers: Some Demographics of Medical Malpractice Tort Reforms" Journal of Risk and Uncertainty, Vol 45, Issue 2, pages 115 – 133.​
Courses Taught
Undergraduate level: 
ECON 4071: Intermediate Microeconomics
ECON 4318: Urban Economics
ECON 4660: Health Economics
Graduate level: 
ECON 5660: Health Economics