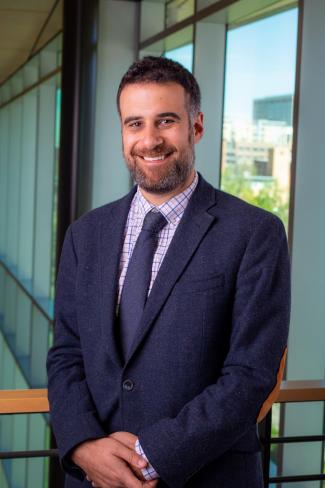 Andrew Friedson, Ph.D • Associate Professor
Economics
Office Location: Lawrence Street Center 470F
Areas of Expertise:
Health Economics, Public Economics, Labor Economics, Urban Economics
PhD, Economics, Syracuse University, 2012
MA, Economics, Syracuse University, 2010
BA, Economics, Mathematics, University of Rochester, 2007
Dr. Friedson is an Assistant Professor of Economics at the University of Colorado Denver and also holds a secondary appointment as an Assistant Professor of Health Systems Management and Policy at the Colorado School of Public Health.  He is a health economist with a background in applied microeconomics (public economics, labor economics, and urban economics) and has particular interest in the health insurance and health care markets, and policy involving these markets.  His research has been published in journals such as the Journal of Health Economics, Journal of Risk and Uncertainty, and National Tax Journal.  He has received grant funding from the Patient Centered Outcomes Research Institute, and Gilead Sciences, as well as from private university contracts.  He also serves on the editorial review board for INQUIRY.
Selected Publications
Courtemanche, C., Friedson A.I., Koller, A.P., and D. I. Rees. "The Affordable Care Act and Ambulance Response Times"  Journal of Health Economics, forthcoming.
Friedson, A.I., Horrace, W.C., and A.F. Marier, "So Many Hospitals, So Little Information: How Hospital Value Based Purchasing is a Game of Chance" Southern Economic Journal, forthcoming.  
Courtemanche, C., Friedson A.I. and D.I. Rees. 2019. "Association of Ambulance Use in New York City With the Implementation of the Patient Protection and Affordable Care Act" JAMA Network Open, Vol 2, Issue 6, e196419.  
Friedson, A.I., 2018. "Medical Scribes as an Input in Healthcare Production: Evidence from a Randomized Experiment" American Journal of Health Economics, Vol 4, Issue 4, pages 479-503.  
Undergraduate level: 
ECON 4071: Intermediate Microeconomics
ECON 4318: Urban Economics
ECON 4660: Health Economics
Graduate level: 
ECON 5660: Health Economics