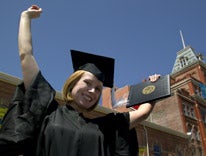 During the 2017 Communication Days, the Department honored outstanding members of its community with several awards.
Haley Pasquariello received the Sonja K. Foss Award for Academic Excellence for her honors thesis, "Communication Strategies Used by Individuals in Multicultural Families to Negotiate Differences." Haley earned summa cum laude honors and received a top-three paper award from the Undergraduate Scholars Conference of the Western States Communication Association convention in February in Salt Lake City. Haley will be attending the University of Denver in the fall to earn a master's degree in higher education and student affairs.
Valeria Moran received the Robley Rhine Student Leadership Award. Her work in the Theories of Leadership class involved documenting the stories of an economically disadvantaged community in Denver. Valeria emerged as the team leader due to her bilingual abilities, her ability to facilitate collaboration, and her ability to create a climate of trust. Valeria hopes to continue to be of assistance to others through a career in social work or human resources.
Sarah Sunderlin, Patrycja Humienik, and Matthew Wilkin received the Lael Porter Community Service Award. Sarah was honored for her work with the democratic communication workshop that she has coordinated at the Camp George prison facility for the past two years, where she also organized a family-reunification event. She also worked on Captured Words/Free Thoughts, in which inmates share their work about their prison experiences. Humienik was also honored for her work with prisoners. She has taught public speaking and creative writing in multiple prison facilities, helping inmates develop the skills to be successful citizens. In her Dances for Solidarity program, she and the other team members connect with prisoners in solitary confinement. Wilkin was honored for his work with veterans as they transition from the military to civilian life. Having served two tours of duty in the Navy in Iraq and Aghanistan, he works to make the veteran transition easier and more effective. He also is active in the Love Your Melon organization, providing support for young people who are suffering from brain cancer.